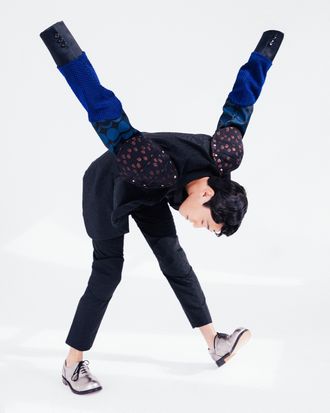 "I have tooooo many sneakers," Jeffrey Cirio says with a laugh. He's in his Financial District apartment, staring at towers of boxes of Air Jordans and Nikes and Jeremy Scott Adidas. "They're all for sale! If someone wants them, they can have them!" After years of collecting, he's downsizing. "I'm not even into sneaker culture anymore. My go-tos are like, a pair of Vans or Stan Smiths or Margiela Replica GATs," he says. "I don't want to be on the subway and looking like the person sitting across from me. I don't want to look like everyone else."
Cirio, 25, is far from your typical (ex-) sneakerhead. He's a principal dancer at American Ballet Theatre, and an unlikely one: At five-foot-nine, he is short and slight, attributes that have a way of getting a male dancers typecast in limited roles, and he is one of only a handful of Asian-American male dancers in the top ranks of American ballet companies. In a cloistered art form that prizes uniformity, he stands out: onstage, for his magnetic, chameleon-like presence, and offstage for his adventurous style. "I dance taller than five-nine, and I have the confidence and ability to do everything," Cirio says of his attitude toward his career. "I would never want to be put in a box. I've always been a person who fights to prove people wrong."
Looking back on his upbringing outside Philadelphia, Cirio says, "I was this little Asian kid who didn't really think about diversity." His mother is a native Pennsylvanian of Irish and German heritage; his father moved to the U.S. from the Philippines when he was 10 years old. "His father was in the Navy, and he wanted my father and his siblings to be as American as possible," Cirio says. "They were Navy brats, and they moved around a lot." Aside from watching kung fu movies together and idolizing Bruce Lee, Cirio's exposure to his Asian heritage was minimal. "My dad doesn't really speak Tagalog," Cirio says. "I didn't have a total Filipino upbringing."
When Cirio was 7, his family moved to rural Carlisle so that his older sister, Lia, could study at the renowned Central Pennsylvania Youth Ballet school (she is now a principal dancer at Boston Ballet); at nine, Cirio joined her. "I didn't fall in love with ballet immediately, but it was fun," he recalls. "It was a way for me to have a social life with other kids who liked to play video games and read comics." Because CPYB drew a diverse population and Cirio was home-schooled, he grew up in an odd vacuum: one where he was far from the only boy doing ballet, and thus didn't experience bullying; and in a diverse setting where, he says, "I didn't think twice" about racial identity. "It wasn't conscious for me," he says. "All my friends, we were all American — just of all different backgrounds."
Though Cirio started skateboarding around the same time he started ballet, it wasn't until his family moved to Boston (when his sister joined Boston Ballet as an apprentice) that his eyes were opened to a wider cultural world: He discovered manga, vintage video games, and hip-hop. "Pharrell and Kanye West — they weren't wearing baggy jeans and oversized stuff, they wore skinny jeans and cool sneakers and cool hairdos," Cirio remembers. "That's where I found fashion." He remembers, in fact, the precise picture of Pharrell that got him interested in clothes. "He was wearing white denim, Vans, big chunky sunglasses, and a T-shirt, and I just thought it was the coolest," he says. "I remember thinking, 'I want to look like that.'"
From there, he learned to invest in pieces he truly loved, like an oversized Titanic sweatshirt from Vetements or a pair of Kenzo pants adorned with flying tigers. If they were prohibitively expensive, he'd just wait awhile between purchases. "When Ricardo Tisci became creative director of Givenchy, that was another turning point for me: 'Oh, this is fashion, this is where fashion is going,'" Cirio says. "So I started saving up, buying pieces that were pleasing to my eye. And over time, I started making outfits." Today, he's wearing a simple t-shirt with Rick Owens pants. "It's high fashion meets skate culture," he says. He's a fan of Hedi Slimane, Ann Demeulemeester, and especially Comme des Garçons. "Rei [Kawakubo] is this person who hides behind the curtain; she wants to be heard through her work, and I appreciate that," Cirio says.
Onstage, Cirio emanates an unforced confidence and quiet masculinity, an attitude inspired by both the work ethic his parents instilled in him — "If you want to do something, you have to give 150%" — and the skaters he idolized growing up. "The skaters I like have that kind of personality," he says. "They're just so cool, and it's not about what they're wearing; it's how they project themselves." The male dancers who've inspired him, like Mikhail Baryshnikov (another shorter dancer who moved freely between roles) and Fernando Bujones, oozed that same effortless cool. "Looking back at them, they dressed well. Like, wow, they were fly," Cirio says. "The turtlenecks, the high-waisted bellbottoms — you look at what Alessandro's doing at Gucci now, and it's exactly that."
In what might be called the ballet world's post-Misty Copeland, slightly-more-woke era, Cirio finds himself with a platform he never expected as ABT's first Filipino-American male principal. "Ballet is evolving, and it has to evolve," he says. "What Misty has done with her career is amazing, and any kind of dancer should be able to do that." He has never been to the Philippines, but he hopes to travel there to meet young dancers; and he proudly flies a Phillippines flag emoji in his Instagram profile. "There are Filipino dancers who might not have the confidence to do what they want; maybe they don't think they fit a certain persona," Cirio says. "I'm learning to be a role model now."
He's getting used to attention in other ways too: when he goes shopping in Soho, he's usually stopped on the street. "I've had some interesting conversations," he says with a laugh. "Someone will notice the way I dress and ask, 'Do you work in the area?' 'No, I work at Lincoln Center or around 14 Street. I'm a dancer.' 'Oh, hip-hop?' 'No, ballet.'" As anyone who watches him dance knows, Cirio relishes the unexpected head-turning moment. "I never wanted to represent myself as only a dancer," he says. "I just wanted to be an artist. I guess that's why I dress the way I dress; I wanted to be someone different."
Photography by Christine Hahn. Styling by Diana Tsui. Grooming by Jason Murillo. Fashion assistant: Indya Brown.