Meet the Gender-Bending Costume Designer Who's Re-creating Queer History
In Taylor Mac's show A 24-Decade History of Popular Music, the gender-fluid artist reinterprets songs from America's past, going all the way back to 1776. That presented costume designer Machine Dazzle with a unique challenge: creating 24 costumes, one for every decade of American history.
For the 1830s, he made a hoop skirt fashioned from gay-male erotica and potato-chip bags (inspired by Walt Whitman). For the 1990s, he created light-up labia wings (inspired by lesbians). The entire range will be on display at St. Ann's Warehouse tomorrow night, when Mac closes his run with a 24-hour performance.
"I prefer to queer the history or the ideas instead of accept the status quo," he said, explaining that politics, music, and inventions inspired the subversive silhouettes more than the styles of each era. "There's no queer history. It's been written out of history. Forgotten."
Mac, who goes by the pronoun "judy," spent five years rewriting those forgotten American identities into a 24-hour show, with one hour of songs and one outfit dedicated to each decade. After performing the show in three-hour segments all month, Mac will do the whole thing in a row for the very first time this Saturday, a feat that will require meticulous timing from Dazzle, who will dress Mac onstage every hour.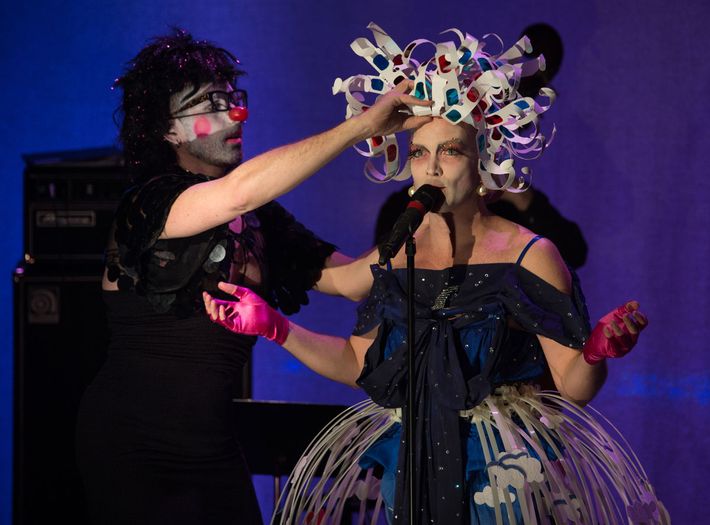 The costumes are like immense sculptures, some Dazzle admitted are too heavy for Mac to wear for an entire hour. In one recent performance, Mac discarded a headdress made of three giant skulls whose eye sockets dripped tinsel (tears from the 1980s AIDS epidemic).
"To me, it's more important to get a good idea on stage rather than a finished product," Dazzle said. "I like to say that my costumes give direction to what the performance is."
For the late 1700s, when the steam engine was invented, Dazzle paired a steam-pipe backpack with a dress covered in severed heads for the French Revolution. The dress was accented with cherries in the severed heads' hair (for George Washington) and bloody fringe tassles. For the Civil War, he framed a hoop skirt with barbed wire (an invention of the era) and lined it with hot dogs to signify America "eating our way through what's dividing us."
After moving to New York in the '90s, Dazzle joined the Dazzle Dancers as a drag performer and the group's costume designer. Machine Dazzle is his name, partly because friends called him "Machine" for his dancing in clubs, and partly because every Dazzle had a nickname (others: Cherry Dazzle, Cornflake Dazzle, Chunky Cupcake Dazzle). He and Mac began their years-long professional relationship in 2009 while working on The Lily's Revenge, a play about gay marriage.
Dazzle left his job as a costume-jewelry designer to focus on A 24-Decade History of Popular Music full time, and he said he considers this show his biggest yet. "It's not just a shiny bit that I'm stretching on a body," he said. "I'm really making these crazy sculptures that you live inside for a moment in time."
Click ahead to see costumes from the show.