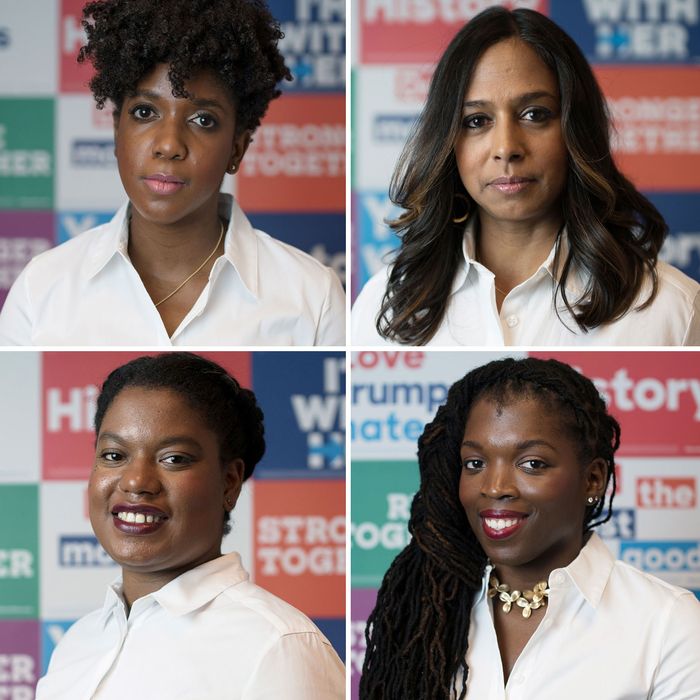 African-American women of the Hillary Clinton campaign
Photo: Bee Walker
Hillary Clinton's downtown Brooklyn campaign headquarters sits in the rich pocket of Brooklyn — not Biggie or Spike's Brooklyn. During the day, the neighborhood pulses with the click-clack of stilettos, men's dress loafers, and new construction, and at night it hums to the soft anthem of Ubers shuttling their passengers home.
Two floors in a nondescript building are dedicated to Hillary's campaign. Inside is drab, but calm and tightly ordered. There are election countdown clocks everywhere. Forty days, 39, 38 … Campaign staffers spill from every crevice of the two floors, from the stately offices that overlook Manhattan's skyline, to the bean-bag chairs plopped next to the office microwave. There are men and women all around, many of them young and eager, and so many of them black.
There are more African-American women working on Hillary Clinton's campaign than any other presidential campaign in history. Thirty-eight, in fact, are stationed at her headquarters. More than both of President Obama's campaigns in 2008 and 2012, and certainly more than her current Republican opponent. The black women's roles spread across all layers and tiers of the campaign. They are designers, accountants, and senior policy advisers. They are campaign veterans and political neophytes. Summarily, they have all strapped themselves to the Hillary train and are willing it forward through the recalcitrant tracks of America.
A conductor on this train is senior policy adviser Maya Harris, sister to California senate hopeful Kamala Harris and a political Goliath in her own right. She arrived at the campaign in April, fresh off a brief stint at the progressive think tank Center for American Progress, where she prophetically wrote about the importance of women of color in future elections. The Stanford-trained lawyer and former university dean helps shape the policies Clinton relays in stump speeches and debates.
When asked about the policies that would affect black women the most, Harris points to three main issues: the gender pay gap, support for small businesses, and criminal-justice reform. "When you talk about these things, they impact women of color in tremendous ways," says Harris. "For example, an average women makes 80 cents on the dollar compared to white men. For African-American women it's 63 cents on the dollar and for Latinas it's 54 cents on the dollar. When you talk about ensuring equal pay for women, that will have a distinct and dramatic impact for women of color, for whom the wage gap is widest."
Harris notes that African-American women make up the fastest growing sector within female entrepreneurship, and that the capital Clinton intends to make available if she were elected would help launch and grow their businesses. It's a policy that will benefit everyone, but African-American women overwhelmingly so. And it's reminiscent of when Obama privately rebuffed the notion that he didn't support enough African-American-driven measures: "If I go out there saying 'black, black, black,' do you think that will help black people?" he remarked to several black leaders in 2011.
Hillary Clinton's relationship with the black community — perceived as ambivalent at best and pernicious at worst — has snarled the narrative of her political stance for much of the current campaign. In 1994, she ardently supported her husband's intensely punitive crime bill, which disproportionately affected African-Americans, and echoes of that era reverberated during the tense primary season. She's also been haunted by a 1996 speech where she engaged in the duplicitous game of dog-whistle politics. Latching on to coded language to describe black youth, she said: "They are often the kinds of kids that are called superpredators, no conscious, no empathy, we can talk about why they ended up that way, but first we have to bring them to heel." No wonder some questioned her commitment to black America.
Who could have guessed that the man once dubbed "the first black president" would find himself in a such a racialized quandary? Yet there Bill was, so he apologized for the crime bill in an address to the NAACP in July 2015 — and because our society dictates that wives ought to accept equal blame for their husband's actions, Hillary apologized as well during a primary debate.
But the seed had been planted. Though Hillary is wildly popular among older black voters, millennials are finding her a tough pill to swallow. By the end of May, she had amassed a lead over Bernie Sanders that ranged from 85 to 89 percent among black voters 45 and older, but lost the 29-and- under vote to Sanders. When it became clear she would become the party nominee, the Twitter generation vocalized their reluctance in hitching their support to her campaign with the hashtag #GirlIGuessImWithHer.
"Millennials don't necessarily remember the Clinton administration in the '90s in the way that you remember how much they attacked Hillary Clinton then," notes Zerlina Maxwell, Hillary's director of progressive media. "You know how we always talk about the concept of receipts? She has them — real, tangible working results that she's worked toward to get for our community."
Like Harris, Maxwell went to law school before immersing herself in the rippled pool of politics. She was a field organizer during Obama's 2008 campaign and was elevated to social-media celebrity during the 2012 election when her informed political tweets took flight. In the off-season, she grew her profile by functioning as a political analyst on cable news and a contributor to publications like the Washington Post, Essence, and Feministing.
Maxwell's well-documented advocacy against sexual assault is both potent and prescient. During a 2013 appearance on Fox's Hannity, she presented the audacious suggestion that men ought to be taught not to rape as a practical tool in preventing sexual assault. Hannity was incredulous. His suggestion: Arm women with guns — never mind, as Maxwell pointed out, that most sexual assaults are committed by someone the victim already knows.
Maxwell's role in the Clinton campaign places her firmly in her old stomping grounds. She relays key campaign messaging to "influencers," as she calls them, such as popular feminists on social media, and she also pitches progressive media outlets for coverage. "Being a black woman in this campaign, it's a lot, especially given what's going on all in the news with black people, and especially when you're running against Donald Trump, which can sometimes be emotionally exhausting. But that just makes the work here more important."
"Did you send a message to Black Girl Magic?" Maxwell asks, looking at two colleagues to her left and right. "Yeah, one responded. They all know when to come for their photo."
The Black Girl Magic email group is the glue that connects the sisterhood within Hillary for America. Not sisters in womanhood — that's a different dynamic altogether — but sisters in blackness. The email group allows the women to do everything from share news articles to quickly informing all the black women in the office that they need to file into a conference room for a photo shoot for the Cut.
A member of that group is Brynne Craig, who serves as the national deputy director of state campaigns and political engagement. If you ask her what it means, she'll tell you it means she does a little bit of everything, including overseeing individual state campaigns and Hillary for America's political shop. It's not her first campaign — she worked for Clinton during her 2008 run — but this one feels much different to her. "Black women are in all departments," says Craig. "Sometimes on campaigns you only see the black people working on the political side, but we're everywhere here, from design to finance. We're in every facet of the campaign which is remarkable."
For Craig, the campaign's diversity also strikes a match to the beacon of hope for future elections. "Being in the room with many women who look like you and have a shared experience — it's something that doesn't often happen, but it's very rewarding and gratifying," she says, adding, "for a lot of people here, this is their first campaign. Hopefully they see this as normal."
Of course there's nothing normal about this election. The Democratic party's first female presidential nominee stands a reasonable chance at holding court in the Oval Office. A former U.S. president might become the nation's First Gentleman. Potentially, there will be 12-year-olds who will never know what it is to have a sitting white male president.
And then there's Donald Trump. Working on the communication's surgical "rapid-response" team, Crystal Carson pores over every tweet, speech, and message that is hurled from Trump's side. Her job mandates that he is her daily obsession. After garnering enough intel about his latest campaign diatribe, she and a small team prepare responses on behalf of the campaign. "No day is typical because Donald Trump says something different … yeah, it's hard to keep up," Carson says.
To work for Hillary, Carson parted ways with her communications course of study at Georgetown University, though she plans to return after the election. For now, though, between responding to the latest exclamative tweets lobbed by Trump, she's found a sense of joy working with the black women of the Clinton campaign. "We band together to talk about our frustrations and what we're working on, and we're learning from each other all the time."
When you're a woman and you've attained a level of success, the insults whirl. The Clinton women are intimately familiar with unsuppressed vitriol. Hillary is routinely pegged as a calculated robot, bankrupt of an authentic personality and innate likability. If that's true, then the leader's icy demeanor doesn't trickle down to her staff. The black women within the campaign acknowledge that election life is hard, but they've grown to become family, "and I'm very protective of my family," says Alexandria Phillips, one of the campaign's media-relations foot soldiers.
In the waning weeks of the campaign, reports have suggested that black voters in the swing state of Florida lack the necessary enthusiasm to head to the polls in November and rally around Clinton. Is it frustrating to see black voters continue to doubt Clinton? "I'm an eternal optimist," Harris says. "There's too much at stake and she has too much to offer to get frustrated. There's no time to waste."
Denise Horn
Director of African-American Media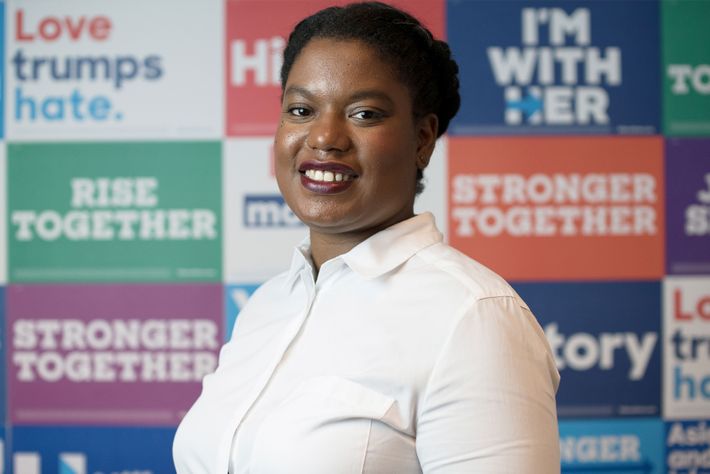 Brynne Craig
National Deputy Director of State Campaigns and Political Engagement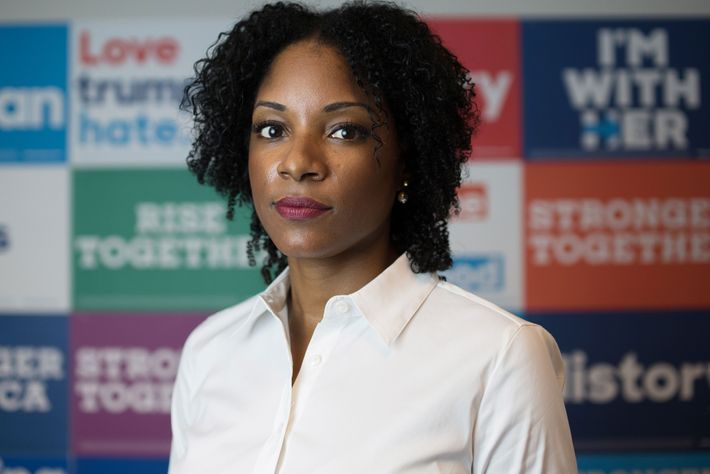 Zerlina Maxwell
Progressive Media Director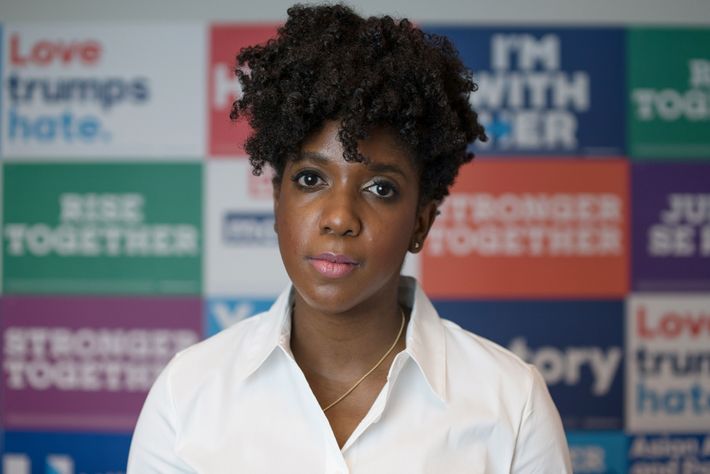 Neisha Blandin
Deputy Women's Vote Director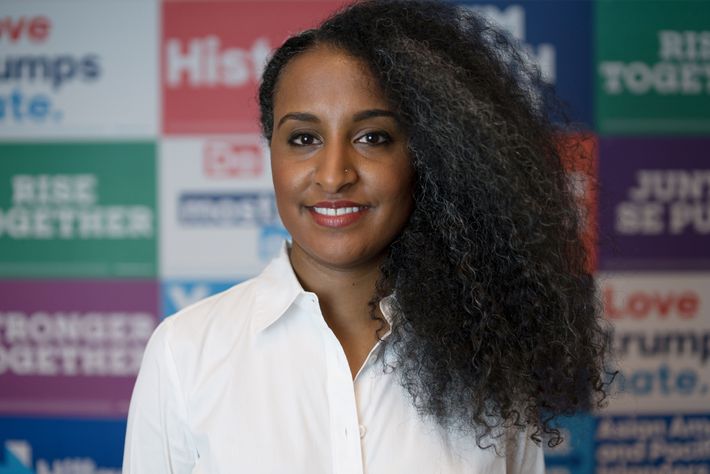 Ida Woldemichael
Senior Designer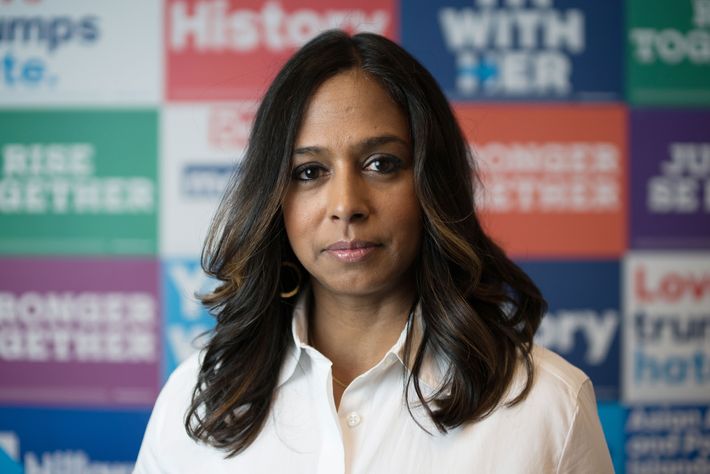 Maya Harris
Senior Policy Advisor