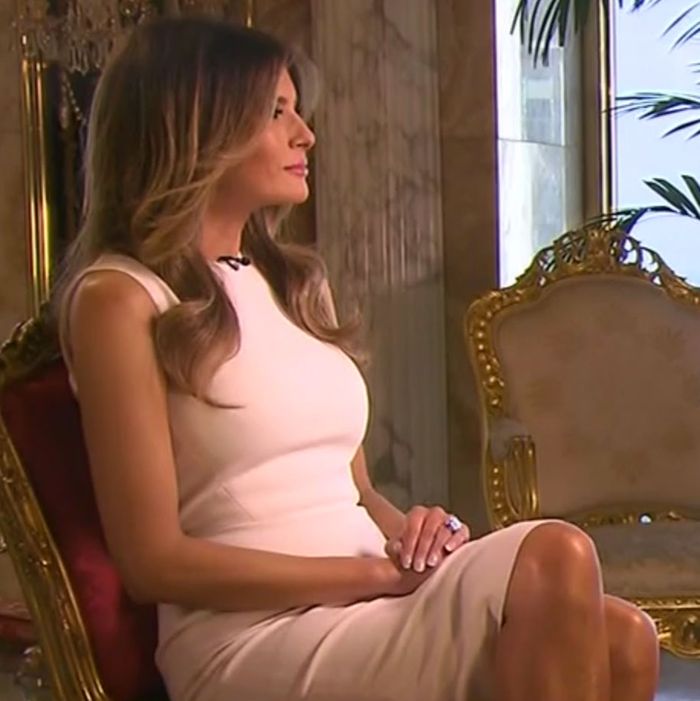 Melania Trump speaks with Anderson Cooper on AC360°.
Photo: Courtesy of CNN
Melania Trump is standing by her man, Donald Trump. In a sit-down interview with Anderson Cooper for the Monday episode of AC360º, Melania Trump called her husband a "gentleman," who would never do any of the things women have accused him of doing, like forcibly kissing them or groping them without their consent. She also lambasted "the opposition" (which she said included "the media" and the Clintons) for what she sees as an unfair portrayal of her husband. Finally, she called into question the veracity of the claims being made against Donald Trump by suggesting the women have ulterior motives.

When Cooper asked her about the growing list of women who've accused Donald Trump of sexual assault and unwanted kissing, Melania Trump had this to say:

I believe my husband, I believe my husband, this was all organized from the opposition. And with the details that they go, did they ever check the background of these women? They don't have any facts, and even the story that came out in People magazine, the writer that she said my husband took her to the room and started kissing her, she wrote in the same story about me that she saw me on 5th Avenue, and I said to her, "Natasha, how come we don't see you anymore?" I was never friends with her, I would not recognize her.
Melania Trump had already called into question the authenticity of the first-person story in People. The story recounts the writer's interview with the Trumps, which is allegedly preceded by an attack and forcible kissing from the presidential candidate. Following the magazine's publication of the story on its website, Trump's lawyer sent a request for a retraction and an apology. It asked that a short anecdote of an encounter between Melania and the writer be omitted from the story since, according to her, it never happened. Cooper pressed Trump about the encounter:

COOPER: That never happened?
TRUMP: Never happened. That's why I send them the letter because it discredited the story.
COOPER: Right. Your lawyer has sent a letter to People magazine saying they have to retract.
TRUMP: Of course, yes, because it was not true. So, how we could believe her. That never happened. I was never friends with her. I saw her — she interviewed us twice. She came to the wedding and for that story. That's it. I would not recognize her on the street or ask her why we don't see her anymore. So, that was another thing, like, you know, people come out saying lies and not true stuff.
Melania Trump also categorized the conversation that Donald Trump had with Billy Bush in 2005 as the kind of talk teenagers might have. When Cooper asked her directly if she thought it was "locker room talk," a phrase Donald Trump has used repeatedly, she replied: "Yes, it's kind of two teenage boys," and added, "Actually, they should behave better, right?" Cooper, seemingly perplexed, pointed out that Donald Trump was 59 when he made the remarks captured by Access Hollywood. To this, Melania Trump joked, "Correct, and sometimes I said I have two boys at home. I have my young son and I have my husband. So — but, I know how some men talk and that's how I saw it, yes."

So, to be clear, Melania Trump says she has two boys at home. One is 10 years old and the other she says was egged on by Billy Bush to "say dirty and bad stuff." Got it.

Watch the full interview on AC360º.