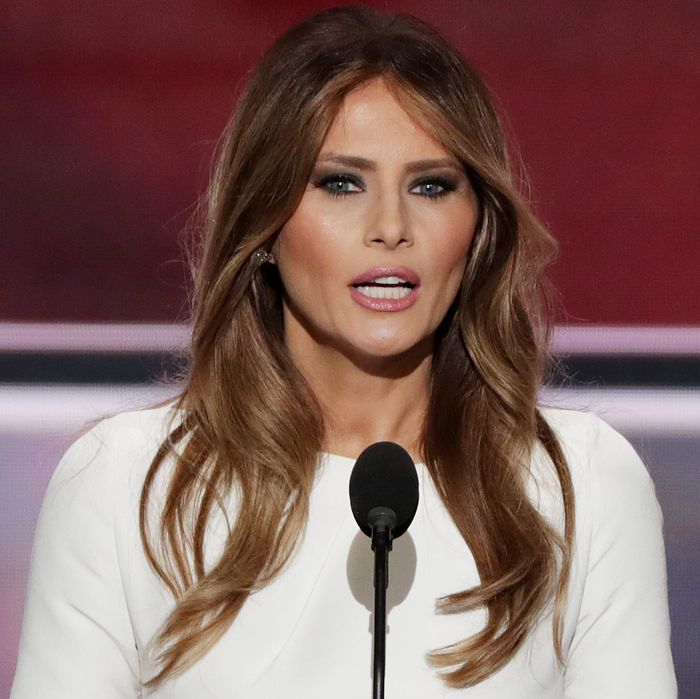 Melania Trump doesn't want your pity.
Photo: Alex Wong/Getty Images
Melania Trump's presence on social media is nothing compared to that of her husband's, Donald Trump. And no one can accuse her of sharing her husband's penchant for impromptu press conferences. That doesn't mean, though, that she hasn't been keeping up with how the campaign is covered in the press — and perhaps just as important to her — in what light she's being perceived.
During her sit-down interview on Monday with Anderson Cooper's AC360°, Melania Trump defended her husband against accusations of sexual assault and criticized media outlets for supposed unfair coverage. But, she also took a moment to declare that she wants no one's pity. "Don't feel sorry for me," she said, twice, for emphasis.
The comment came after Cooper asked her about whether or not she believes that Donald Trump's remarks in the 2005 Access Hollywood tape describe sexual assault. She responded by saying that Donald Trump never said he did those things and then pivoted to how women have apparently acted inappropriately or given their numbers to him while she's present. She explains:
"He didn't say he did it, and I see many, many women coming to him and giving phone numbers and, you know, want to work for him or inappropriate stuff from women. And they know he's married […] In front of me. And I said, like, Why you need to give your number to my husband?

I'm very strong. People, they don't really know me. People think and talk about me, the — like, Oh, Melania, oh, poor Melania. Don't feel sorry for me. Don't feel sorry for me. I can handle everything.

And for this — for people talking like that, I see in the press a lot almost, like, celebrities or people, they think they're celebrities, I would suggest to them to look themselves in the mirror and to look at their actions and to take care of their own families.
She also defended the nude photos she took while working as a model years prior, though she criticized the New York Post for publishing the pictures, especially with the wrong dates. The Post initially incorrectly cited the dates the photos were taken, and there was a subsequent mini, political scandal and discussion about whether Melania Trump had worked illegally in the U.S. without permission. Those kinds of stories, she said, were an example of how she "didn't expect media would be so dishonest and so mean," and how she's "never had one correct story, one honest story." It was surprising, too, she said, that "every story, it's a female, it's a female reporter."
She also referenced her current lawsuits against the Daily Mail and an independent blogger, for publishing stories that suggested she worked as an escort. "I said, this is it, I will fight for myself, I will fight for my name," she said. "They cannot damage my name and my reputation because it's not true."
And no detail in a story is too small for Melania Trump. She also had her lawyer send a letter to People magazine, asking for a retraction and apology for publishing a reporter's first-person anecdote of Trump forcibly kissing her prior to interviewing him and Melania. The letter doesn't reference the alleged attack by Donald Trump; rather, Melania Trump's lawyer points out that a small conversational exchange between the potential First Lady and the People writer couldn't have possibly happened because they "were never friendly." It was a point Melania reiterated again during her interview with Cooper. "I would not recognize [the writer] on the street or ask her why we don't see her anymore," she said. "So that's another thing, like people coming out saying lies and not true stuff."
So, be forewarned: Melania Trump is keeping tabs on all her mentions. Which means she's also probably heard about those ongoing SNL shorts and that one Beyoncé spoof. (But, you know, parody and satire are protected speech, so … )