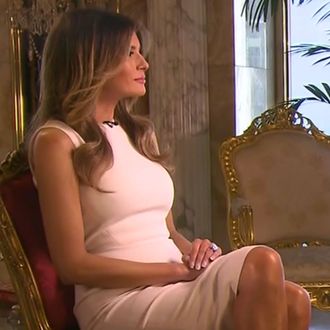 Anderson Cooper interviewed Melania Trump for CNN.
Photo: Courtesy of CNN
Even Melania Trump rebuked her husband after the Washington Post published a 2005 Access Hollywood tape in which he bragged about groping women. "The words my husband used are unacceptable and offensive to me," she said in a brief statement last week. "This does not represent the man I know."
Since then we haven't heard much from Melania, but on Monday night she's set to appear on CNN with Anderson Cooper to offer a full response to the recent string of sexual-assault allegations against her husband. And according to a clip, she'll spend much of that interview making excuses for him.
"As you can see from the tape, the cameras were not on — it was only a mic," she tells Cooper in one clip. "And I wonder if they even knew that the mic was on because they were kind of boy talk[ing], and he was led on, like egg[ed] on, from the host to say dirty and bad stuff."
She added that she was "surprised" to hear the tape because, "that is not the man I know." "[I've] heard many different stuff — boys talk," she said. "The boys, the way they talk when they grow up and they want to sometimes show each other, 'Oh, this and that' and talking about the girls. But yes, I was surprised, of course."
Her remarks echo Eric Trump's who said last week that bragging about "grabbing [women] by the pussy" is just what happens when "alpha personalities are in the same presence."