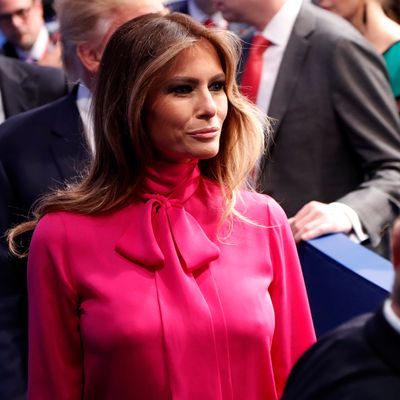 Melania Trump.
Photo: AFP/AFP/Getty Images
Melania Trump is disputing some of the details in the first-person account of a People writer who alleges that Donald Trump pushed her against a wall and forcibly stuck his tongue down her throat. Donald Trump has already called the story, along with the accounts of other women who accuse him of inappropriately groping or kissing them, "pure fiction and … outright lies," while his campaign suggests it's all manufactured by the media. Melania Trump, though, has come out of this mess seeking a retraction and apology from People and the magazine's writer, Natasha Stoynoff. But the details Melania Trump's lawyers are saying are false are, well, minor details, if you will.
The letter, which was shared Wednesday evening on Melania Trump's Twitter account, states: She never met the writer outside of Trump Tower in the winter following their interview in Mar-a-Lago and thus never exchanged words. And that Stoynoff didn't squeeze the foot of baby Barron (Trump's son with Melania).
It also has this particular dig at the writer: "These two are not friends and were never friends or even friendly. At the time in question, Mrs. Trump would not have even recognized Ms. Stoynoff if they had encountered one another on the street."
In Stoynoff's detailed account for People, she writes that she covered the Trump beat for years, in the early 2000s, and, "reported on all things Donald." Jess Cagle, People's editor-in-chief, wrote a defense of the story on the magazine's website earlier in the day, responding to Donald Trump's dismissal of the story. "Ms. Stoynoff is a remarkable, ethical, honest and patriotic woman, and she has shared her story of being physically attacked by Donald Trump in 2005 because she felt it was her duty to make the public aware," Cagle said in the statement.
It should be noted that the letter on behalf of Melania Trump does not call the story in People defamatory nor is it a formal suit and instead states that a failure to comply with the retraction and apology "will require Mrs. Trump to consider her legal options." Given that People is standing by its writer's story, that probably means Melania Trump will keep in close contact with her lawyers.