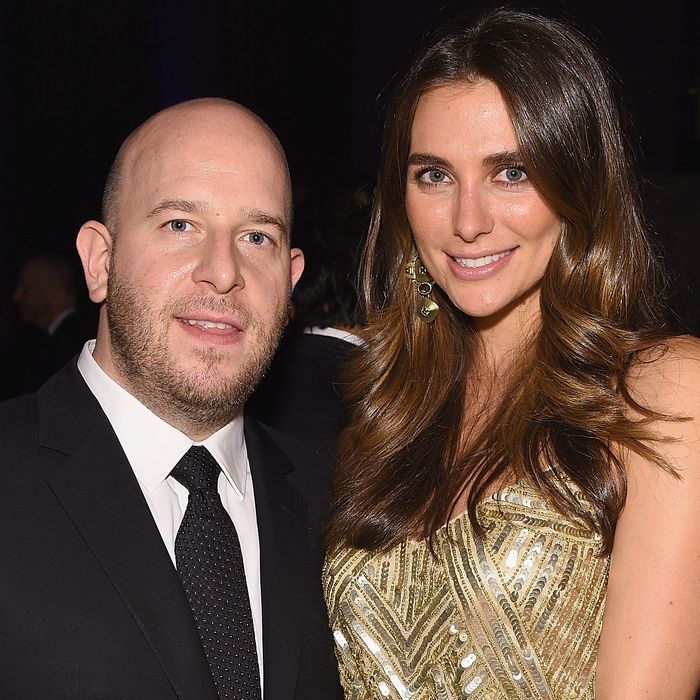 Noah Tepperberg and Melissa Wood.
Photo: Dimitrios Kambouris/Getty Images for Gabrielle's Ang
Reading the New York Times "Vows" column with an open heart and the intention of making fun of the featured wedding is one of America's favorite pastimes, but the once-reliable dispensary of glee has been slipping lately. It's been three years since the May-December couple obsessed with wolves, over a year since the "wacky" YouTube star who called his bride Babyfist. But perhaps the weddings desk overheard us calling Vogue weddings the best thing to happen to marriage, because they stepped up their game this weekend with the nuptials of Noah Tepperberg and Melissa Wood.

The story of Tepperberg, 41, and Wood, 33, is one that features the unlikeliest of couples: a nightclub owner and a model. They met when she worked as a cocktail waitress at Marquee for a year before becoming a model full-time (Tepperberg owns Marquee, Lavo, and Tao, which are, incidentally, the names of my three children).
Their romance began, as all great romances do, on a vacation with 25 friends to Ibiza. Once they were Stateside, it continued with a date to Ben Affleck's The Town, a movie about Boston, the Ibiza of America.
The central tension between them was that Wood liked to do yoga and eat apples, while Tepperberg preferred to eat many meats and drink alcohol. But that wasn't the extent of their differences. For instance, when they moved in together, Wood found their preference in décor to be wildly incompatible, explaining, "Noah has modern tastes, where I'm modern to shabby chic."

But they have breached this wide chasm, both in love and in the kitchen:
"I'll make brown rice pasta and add nutritional yeast instead of cheese, although he'll try to sneak in cheese after," she said. "I'll chop up kale and mushrooms and zucchini, so that the pasta has a balance, and he loves it actually. It's kind of what you do with a baby."

Wood and her baby husband married at the Plaza Hotel on October 9, at a ceremony attended by the Big Three: Pauly Shore, Adrien Brody, and Paris Hilton.

Congratulations to the couple on overcoming their differences, and many years of happiness to them both.