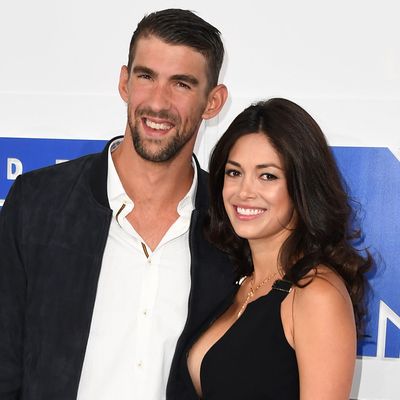 Michael Phelps and his (wife!) Nicole Johnson have kept their nuptials secret for months.
Photo: ANGELA WEISS/AFP/Getty Images
Looks like Michael Phelps and his (surprise!) wife Nicole Johnson have been keeping their nuptials secret from the press for months. The two were married in a quiet civil ceremony in June, according to TMZ and People, which obtained a copy of the marriage license.

And by the looks of things, Phelps and Johnson really didn't want people to know about their marriage. In fact, one could argue that Phelps pretty much lied about the ordeal during the summer Olympics in August when People asked him about his upcoming wedding. Without clarifying anything, an already-married Phelps played along, saying, "I really can't wait to get married." He added that it will be a "small destination wedding," and that "It's the next big milestone [he's] looking forward to." While there are, of course, differences between a civil marriage and a more traditional wedding, it's unclear what prompted the two to tie the knot back in June. Maybe the two are more spontaneous than one would suspect? Either way, congrats to the wedded couple who will marry once again soon enough!