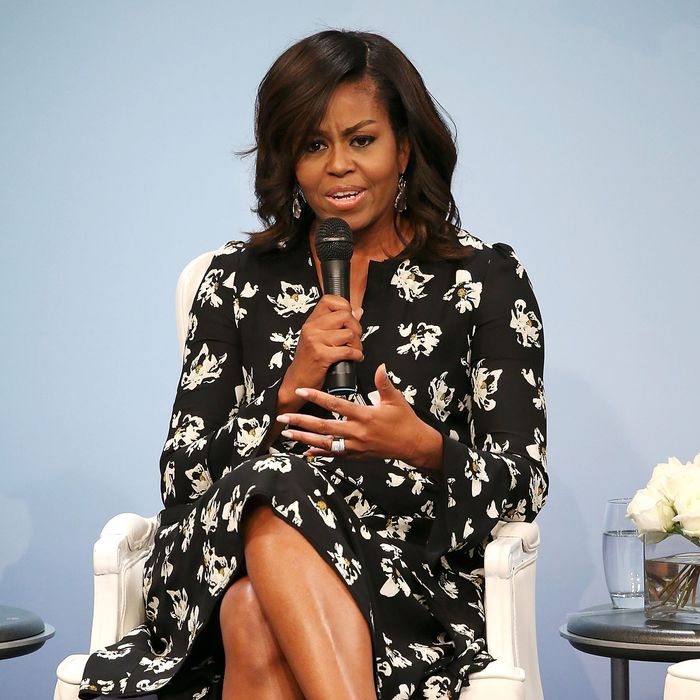 Michelle Obama.
Photo: Paul Morigi/Getty Images for Glamour
As any heel-wearer can attest, even the very best pair of heels can turn into medieval, torturelike devices when they're worn for too long. Michelle Obama knows this. Or, at least, she sympathizes with the pain that comes from squeezing into narrow shoes and walking around on the balls of our feet for hours on end. That's what we can deduce from a little anecdote courtesy of Sara Blakely, the founder of Spanx. Blakely recalled to Footwear News how, when she was a guest at the White House, FLOTUS allowed her to take off her heels after she expressed how much pain she was in.
"I stood in line at an event and they allowed us to get a one-on-one photo with Michelle Obama," Blakely told Footwear News. "I waited in the line so long that by the time I finally got up to Michelle Obama, I literally burst out, 'My feet are killing me,' and she goes, 'Girl, my feet are killing me, too.' I asked if I can take my shoes off and she said, 'Yes, and you can tell anyone who tells you to put them back on that Mrs. Obama said you can take them off.'" Blakely had to carry her Christian Louboutins in her hands for the rest of the night, but she was happy to share the moment (because who wouldn't be?)."The first lady and I bonded over sore feet,"she said.
We're not sure if this is a first for a guest at the White House, but it's clear that FLOTUS knows the struggle. Though, given her affinity for kitten heels, she probably has learned by now exactly how high a heel is too high for her meet-and-greets.