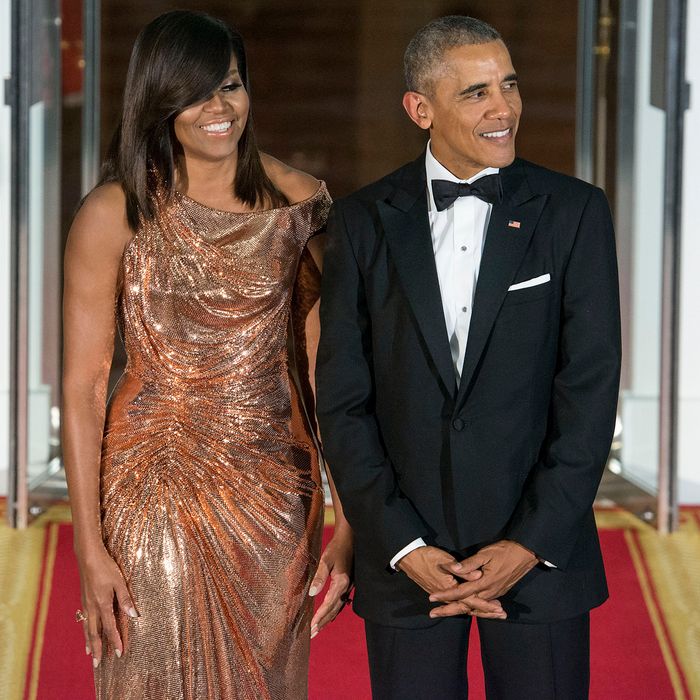 President Barack Obama and First Lady Michelle Obama await the arrival of Italian prime minister Matteo Renzi and his wife, Agnese Landini.
Photo: Leigh Vogel/WireImage
Michelle Obama's gown for her final White House state dinner will be one to remember. The First Lady wore a custom-made, rose-gold Atelier Versace gown made of chain mail that drapes gracefully into a form-fitting silhouette. She completed the look with a sleek hairstyle featuring long, side-swept bangs that covered one eye ever so slightly. The sleek gown, with its off-the-shoulder cap sleeve and draped detailing at the waist is among the more glamorous and curve-hugging gowns that Obama has worn.
In the past, FLOTUS has opted for a range of designers, often (though not always!) hailing from or having some connection to the event's theme. Tonight's state dinner, the 14th and final for the Obamas while living at the White House, is in honor of Italy's prime minister Matteo Renzi. Plenty of other Italian and American celebrities are in attendance as well, including designer Giorgio Armani, actor Roberto Benigni, Chance the Rapper, and Rachel Ray. Celebrity chef Mario Batali helped with the menu and Gwen Stefani will perform after dinner.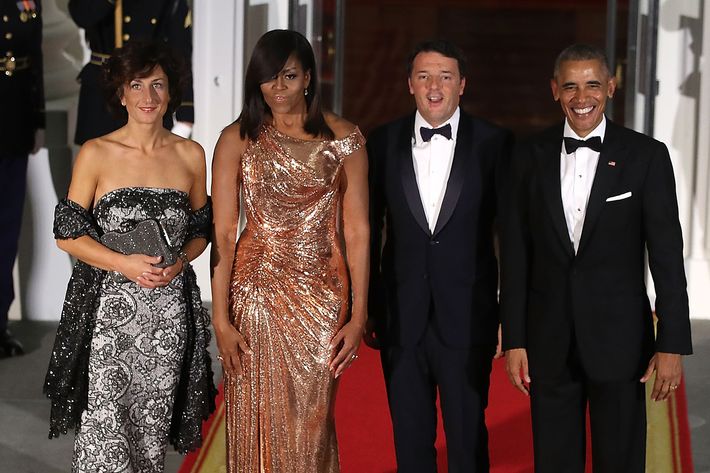 But for all the excitement around the night's events, we still can't get over just how brightly Michelle Obama is sparkling during her final state dinner as First Lady. What a way to shine!

Relive her other amazing gowns at past White House state dinners by checking out the slideshow for a recap.