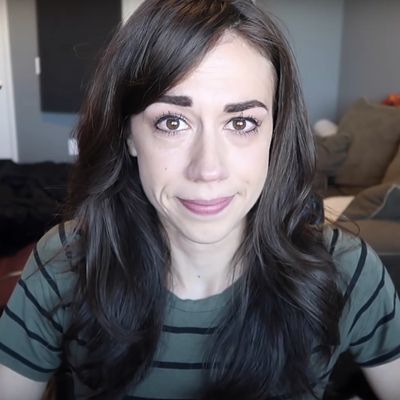 Photo: Colleen Ballinger/Miranda Sings/YouTube
Colleen Ballinger, who performs under the name Miranda Sings, posted an emotional divorce announcement on YouTube. Simply titled "Life update," Ballinger broke down in tears as she discussed her breakup with Joshua Evans.
Ballinger, whose show Haters Back Off premieres on Netflix on October 14, avoided sharing the nitty-gritty details of the split and had nothing but positive things about her ex. "I want to start off by saying Joshua is a wonderful man and I am so in love with him. This has nothing to do with 'he's a bad person' or 'he did something horrible to me' or anything like that. He's a good person and I love him," she said, pausing to take a deep breath. "We have always had a very rocky relationship since the beginning. We've always butted heads. We've always fought, ever since we met really. It's never been a perfect relationship."
Ballinger and Evans shared most of their courtship and subsequent marriage with fans, but obviously some aspects of every relationship must remain private. "You've watched us date, you've watched us get engaged, you've watched us get married. We've shown you everything because we wanted to, and I don't regret any of that, but, you know, we chose to not share with you the hard parts of our relationship. And there were a lot of hard parts of our relationship," she admitted.
Ballinger added, "I wish that I could just send this video just to the people who I know care about me and Josh. I hate that it's going to end up in the hands of all these people who are going to be so mean and use it as thumbnail clickbait and titles of news articles. It's so gross to use our heartbreak as a way to get attention. So gross." She added that she'll be taken a breaking from internet for a while in order to avoid reading and hearing about the inevitable criticism about her relationship and breakup.
Evans posted a response titled "Heartbroken" that was equally intense. "I want it to be known that I am not choosing this divorce. I don't want this divorce. I want her, but I truly believe she thinks she is making the right decision right now." He added, "I was faithful the entire time — it's nothing like that at all, in any way. I would never, ever break that trust with her, so that's not anything like that."
Evans added, "I can't just keep making videos right now. It would all be fake. It would all be a show, and I can't. I just can't." He also will be taking some time off from the internet, "for I don't even know how long."
"I gotta go heal in private," he said. "And I know I chose to put my life out there, and that's part of my job, but for my own mental health, I need to step away." Instead, his sister and friends will take over his channel for the time being.
The comments sections on both of the videos have exploded with comments from fans sharing their sadness, offering support, and lobbing unwanted criticism and cruel comments — after all, it is the internet.