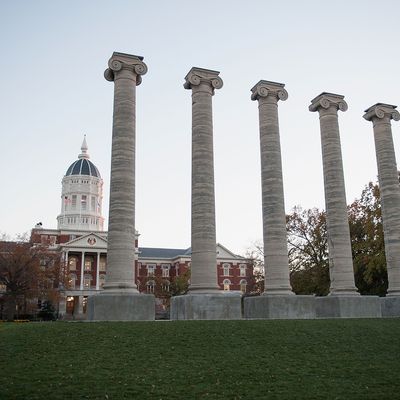 Francis Quadrangle at the University of Missouri.
Photo: Michael B. Thomas/Getty Images
The University of Missouri's Title IX office is investigating reports that date-rape drugs were provided to men hoping to join Delta Upsilon fraternity. In a letter to the fraternity, Ellen Eardley, MU's Title IX administrator, wrote that "Active members of Delta Upsilon fraternity allegedly provided each new member with three pills and instructed them to drug women for the purpose of incapacitating them prior to engaging in sexual activity." She went on, "It has been alleged that new members are required to engage in such conduct in order to complete the initiation process."
Her office, she said, had received numerous reports after the information was circulated on social media. Both MU's Office of Student Conduct and the Office for Civil Rights and Title IX are investigating Delta Upsilon, according to the Columbia Daily Tribune.
The chapter was temporarily suspended in September after members reportedly shouted racist and sexist slurs at two black women outside its house on campus. MU officials confirmed there are at least two ongoing drugging-related investigations into the chapter, although they wouldn't specify which reports are being investigated.
In an email statement, the fraternity's national director of communications said the fraternity has "worked tirelessly" with the school to investigate reports. "We will not condone or tolerate the type of behavior alleged in these incidents," she said. "Our investigation will help us determine whether our Missouri Chapter can positively contribute to a safe, enriching and inclusive campus environment."