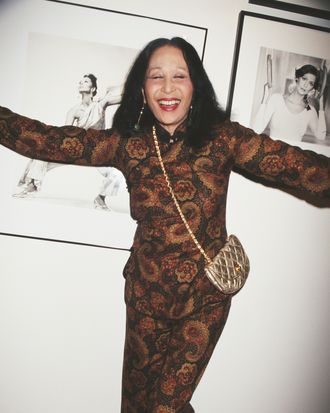 Photo: Rose Hartman/Getty Images
Is China Machado's fabulosity innate or learned? One can never be sure, and after 86* years of life, who even has time to parse such things? I first met Machado to interview her for a New York cover story in the summer of 2011 at the Sag Harbor home she shares with her husband (businessman Riccardo Rossa), and instantly knew I wanted to be her when I grew up.
A mere 80* back then, she wore head-to-toe denim and showed me through room after room whose walls she'd painted with scenes from her childhood in Shanghai before her family fled following WWII. (Her mother, from Macau, met her father, a Portuguese gold trader, in Hong Kong. Machado's first name is pronounced Chee-na, like chinita in Spanish, which is what she was called when her family finally settled in Buenos Aires.) Machado's remarkable life has included running off with the most famous bullfighter in the world, Luis Miguel Dominguín, who then left her for Ava Gardner; becoming a couture-house runway model for Givenchy, Balenciaga, and Dior in Paris; taking on the role of fashion director at Harper's Bazaar; and of course being the muse of Richard Avedon, who made her the first non-Caucasian model to grace the pages of Harper's Bazaar in 1959, and who was her great friend and collaborator until his death in 2004.
Now, at the behest of the National Arts Club in New York, she's put together a fascinating record of her life in fashion in the form of an exhibition of photographs and paintings of her made over the past 60 years from the likes of Avedon, Bruce Weber, Steven Meisel, and even Karl Lagerfeld. It'll be on display from October 3 to October 16. In honor of the occasion, here's Machado on the photographers who've shaped her, racism in fashion, and her advice on beauty, health, and relationships.
Tell me about how you first met Avedon. Was there an immediate connection?
I arrived in New York in 1958, and three hours later I was in Diana Vreeland's office. She'd booked me for the International Fashion Group Show at the Waldorf-Astoria, which at the time was the most important show of the year. It was couture and I opened the show on a ladder, 20 feet in the air, in hot-pink, bat-wing Givenchy pajamas, and when I came down the stairs, Dick saw me. About three days later I went to his studio. When I met him, I hadn't even been photographed. I'd been photographed by a couple of stock photographers in Europe, but I was really a runway model for Givenchy in Paris, not a fashion model. At that time, it was separated, you either did runway or you did photography. You didn't do both.
When I went to Dick's studio, I was absolutely petrified. I used to do my own hair and makeup when I did runway, and here they had all these people! The first thing Dick did was call over his assistant and they sit down and they're sort of staring at my face and he said, "Get the bones! Get the bones!" And I thought, Oh, my God, the man is insane! What is he talking about? Then they did a makeup that was very, very pale, almost luminescent, much lighter than my skin, so it looked like porcelain. And then they had this white hat on. There were four or five famous photographs — you know that one with the cigarette that has become the iconic Avedon photo of me? That came out of that first sitting in September of 1958.
How did you become his muse, ongoing?
I was only here for three months, and I went back to Paris, and when I got back to America in January of 1960, Dick photographed me exclusively for five years. It was an unofficial thing, but certainly no one in Bazaar could photograph me except for Dick. He didn't want me to be overused, and I was perfectly happy with it.
He did my first nude, which you'll see in the show, and I wasn't sure I wanted to be nude. It was 1961! And he wanted it frontal, and I thought, What is he talking about?! So Diana Vreeland says, "Don't worry, China." She called me "Golden Bones" after that first shoot and I went to the studio and she said, "You'll have chains all over you. You won't see a thing." She brings me this tiny thing and she says, "It's Tiffany," as if that explained everything [laughs]. And she put it around me, and of course it's nothing! It wouldn't cover anything! So finally I decided to do it lying down with my arms crossed over my breasts.
Why do you think you and Avedon got along so well?
I think a lot of models feel the same way. Once you were in front of him and a camera — and with Meisel also — you think you're the most beautiful woman in the world. It's just between his lighting and his manner and his charm, of course. He'll say, "Oh my God, that's beautiful! That's beautiful! Oh!" and he takes the picture at that exact second. That was it. He encouraged me to do anything I wanted in a certain sense because he thought I had an incredible sense of fashion, since I worked with Balenciaga and Givenchy and Dior. If you look at my pictures then, some of those shoots with Dick, they could've been taken yesterday. They were so modern, you know? It wasn't like the stiff pose of the '50s. It was some kind of simplicity and acknowledgment of fashion that he has.
Very often he didn't have to talk to me. I knew what he wanted. And after I stopped modeling, from 1962 to 1966, I was the only editor from Harper's Bazaar to work with Dick. I went to London and did the Beatles shoot with him, Frank Sinatra. A lot, a lot.
You were the first non-Caucasian model to be featured in Harper's Bazaar. Did you know that at the time?
No, I didn't. I knew I was considered kind of "exotic," if you want to use that word, in Europe, but it wasn't any kind of a slur. So when I came here I didn't know that. I was new to New York and going to parties. I met everybody. I met Kennedy at that point. So I didn't know that! I had no idea! When I went back to Paris, it was then that Dick said that he would not sign his contract for another seven years unless those pictures were published. And he never told that to me until 20 years later.
Did you experience a lot of racism in fashion when you first started?
Yes, but it was sheltered from me. When I first came to New York, I did runway for Oleg Cassini [Jackie Kennedy's favored designer] and he brought me to his showroom on Seventh Avenue, and after the show I sort of felt there was a little funny thing going, and the Southern buyers would not buy a single dress that I was wearing. Oleg said, "What are you talking about?" And they said, "Oh, she's black." He said, "She's not even black!" Oleg was something else. He stood up for me. After that he booked a lot of black models in his show. That was 1958. Like Dick, Oleg didn't let me know about it until quite a bit later. I really didn't know.
There's a photograph of you jumping with Jack Nicholson. Were you close, or was that just something for the shoot?
No, we were pals. New York in the '70s, you know, you met everybody, and he was very much into the model scene, you know.
Wait, did you date him?
Now, Jada! [Laughs.] Don't forget I wasn't modeling anymore. I was fashion director for Harper's Bazaar. But he was a pal. He's something else. He had incredible energy, very, very funny, highly intelligent, and he liked to have a good time. He was a good-time Charlie!
After we put you on the cover in 2011, you got an IMG contract and were featured in the Cole Haan "Born in 1928" campaign. How did that come about?
[IMG chief] Ivan [Bart] asked my daughter Manny and she asked me [about signing on to the agency], and I thought, Well, okay, better than having people call me at home. I didn't expect to become a commercial model at the age of 80! But Ivan Bart is kind of a humanitarian. He always goes after something different. So he wanted to conquer the age thing and show that women over a certain age could still model. And he's signed transgender people and disabled people. It's all Ivan and it's certainly not commercial on his part. So, chapeau to him.
You're also starting a fashion line, correct?
It's going to be on my website, Cheenawear.com. It's spelled the way that it's pronounced, not the way that I write it. It's a line for the woman on the move. I've always been a very practical person, and I made these jackets and stoles and scarves that can be worn doubly. They can be worn all black, or with an animal print, so that instead of two jackets you're taking one. They're 100 percent wool. And it folds into 12-by-16, so you can use it as a pillow; you can put it in your suitcase very neat. And I think they're chic!

What's your beauty secret for looking good for 86* years?
Well, I never had a face-lift, and it's mostly because I wasn't rich enough to have a face-lift — I had to take care of two kids, and I never thought about it. I couldn't spend money on expensive creams, and I've never been to a facial. I had other things to do. I was working all the time. And I think that helped a lot! If you don't do too much to your face and don't think about it too much, that's good. The minute you think about it then you think everything's wrong with your face! Somebody said to me one day, "Do you ever think you'll start doing something [to your face]?" And I said, "Oh, yeah! But once I start, there's going to be so many things I want to do! Forget it!" [Laughs.]
The only thing I ever use, for 40 years, is Pond's Cold Cream to clean my face. And then I wash it with water. Everybody sends me beauty products. I have drawers full and don't know what to do with them! I'm so impatient. They say, "Listen, lines will go away within one week." I don't know what I looked like last week! How can I know whether it did any good or not? Forget it!
Any health secrets? You have so much energy.
No, I eat five times a day because I hate to be hungry. So, usually in the morning I'll have my coffee and half a croissant or toast or something. Then at 11, I might have a small sandwich. Then at 2:30 or 3, I'll eat the leftovers from the night before because that's hot food. And then at 5 I'll have a biscuit and some tea, and then I'll have a normal dinner. But it's not because I'm dieting. I think it's good for your body that you digest a little at a time instead of having a full meal and walking around with something in your stomach. I eat quite a bit of Mediterranean food and a lot of Shanghai and Macau food.
You have two daughters, and you're friends with a lot of single women like me. Any advice about men you can pass on?
Do not in any way underestimate yourself. Don't take any kind of crap. I've always been that way because of the first love of my life [the bullfighter]. I really got kicked in my head. So I always say, "The doors are always open," meaning that he can always leave and someone else will come in. I think most men, they didn't like it very much, but they understood what I was saying.
You learn a lesson every time you're with a man, and what you gave him and what he gave to you, and that's very important in your next relationship. I was very aware of a woman's financial problems because I was left high and dry and alone without a cent, and anything could have happened to me. I learned that lesson. I said, "You have to be financially independent. You make your life." I didn't buy clothes, I didn't go to spas. No, I bought land, and that's why I'm completely independent. I haven't had an income in 25 years. I have never been dependent upon a man since I was 20. Nobody ever gave me 20 bucks. I paid my own way.
Well, you've done very well for yourself over the years, China.
Well, I can't complain, but I worked very hard, Jada. I worked very hard.
*This post has been updated to show that China Machado was 86.