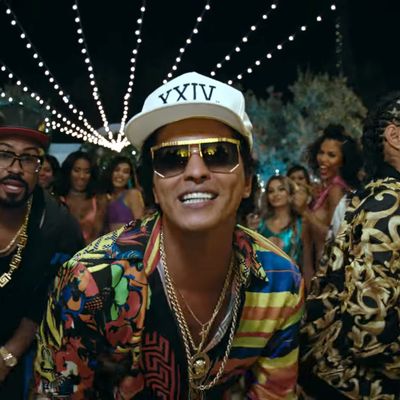 Last night at midnight, Bruno Mars — who could put a Twitter egg in a good mood — shared with the world a new video for his new single, "24k Magic." Moms out there, if you're reading this, I'm going to need you to take a seat.
In classic, "just playin'" mom mode, Mars tweeted late on Thursday night, "Ugghh..About that single tonight. Been a rough week, exhausted. Also, gotta pick a friend up from the airport early tmrw. Rain check???" What, no Bruno Mars single after all? It wouldn't be the first time we waited for new Bruno and it never came. "NAH FUCK THAT!" he tweeted. "Not only am I droppin the single tonight, imma show y'all the album cover too!!" God is good.
Prepare your phones to receive a string of loving Bitmoji from your moms. Ellen's ratings are about to go through the roof. Bruno's back, baby.