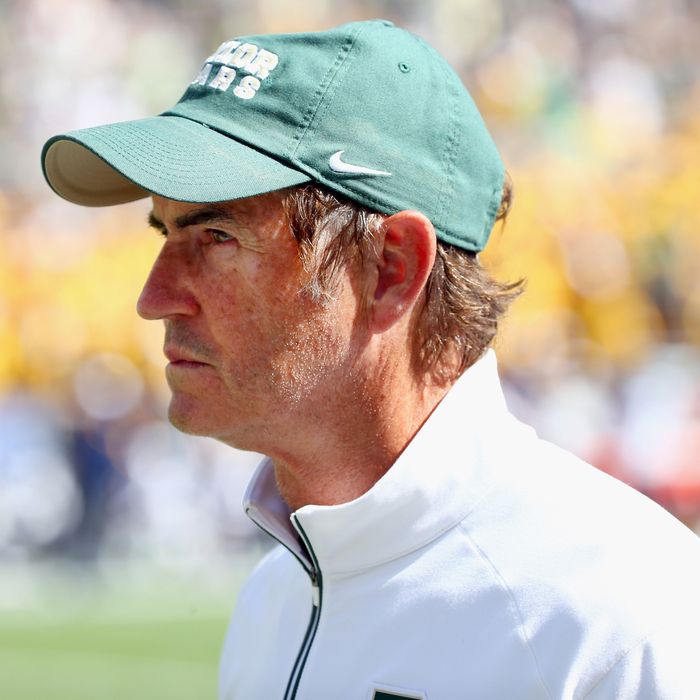 Baylor University's former head football coach, Art Briles.
Photo: Tom Pennington/Getty Images
In May, the Board of Regents at Baylor University demoted the university's president, Ken Starr; fired head football coach Art Briles; and placed athletic director Ian McCaw on probation, all over the mishandling of sexual-assault cases. An investigation requested by Starr and conducted by an outside law firm found that staff members met with women who claimed they were sexually assaulted by football players, "improperly discredited" their claims, and "denied them the right to a fair, impartial, and informed investigation." But no further details were released.
Then, on Friday, the Wall Street Journal published a detailed account of the claims as disclosed by the Baylor regents. In all, 17 women reported sexual or domestic assaults involving 19 football players between 2011 and 2016 — that's over a period of five years. Four of the alleged assaults were reportedly gang rapes.
In at least one case, regents say Briles knew about an alleged assault and didn't tell the police or the university's Title IX coordinator. One of the regents told WSJ that during a hearing, Briles was upset but did not admit to wrongdoing. "I delegated down, and I know I shouldn't have," he said. "And I had a system where I was the last to know, and I should have been the first to know."
"There was a cultural issue there that was putting winning football games above everything else," J. Cary Gray, a lawyer and member of the board of regents, told the paper. "We did not have a caring community when it came to these women who reported that they were assaulted. And that is not okay."
So far two Baylor football players have been convicted of sexual assault in the past four years, and a third is under investigation — he has pleaded not guilty. The school itself is reportedly facing lawsuits from a dozen former students for mishandling their claims of sexual assault.