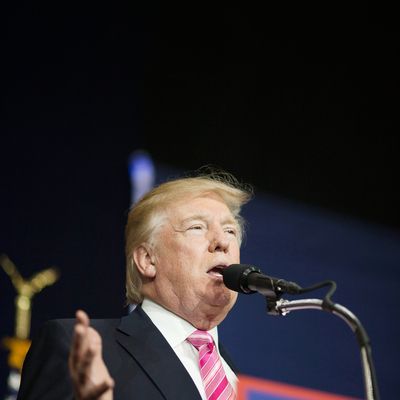 Donald Trump has some misconceptions when it comes to PTSD.
Photo: Jessica Kourkounis/Getty Images
On Monday, at an event hosted by the Retired American Warriors PAC, Donald Trump seemed to imply that "strong" war veterans don't get PTSD. "When you talk about the mental-health problems when people come back from war and combat and they see things that maybe a lot of the folks in this room have seen many times over, and you're strong and you can handle it — but a lot of people can't handle it," he said in response to a question. "And they see horror stories, they see events that you couldn't see in a movie, nobody would believe it."
The notion that only "weak" people get PTSD not only reinforces dangerous stereotypes, it's also woefully inaccurate. And on Tuesday, the mother of a deceased veteran wrote an op-ed for the New York Daily News in which she sets the Republican nominee straight.
"Not only did he serve honorably for nearly eight years, he also was the 2009 Soldier of the Year for the 7th Special Forces Group at Fort Bragg, and served as an Intelligence Analyst for the 7th SFG," she wrote of her son, who died in January after serving two deployments in Afghanistan. She went on:
The grace and courage that he showed in his service and after returning home while fighting the demons of war should not be belittled by those who do not understand.
For Donald Trump to say that PTSD is an indication of weakness is absurd and ignorant. I would love to meet him and show him the face of a brave and beautiful young man who died way too soon because he tried to make the world a better place. What, I ask, has Donald Trump ever done to make the world a better place?