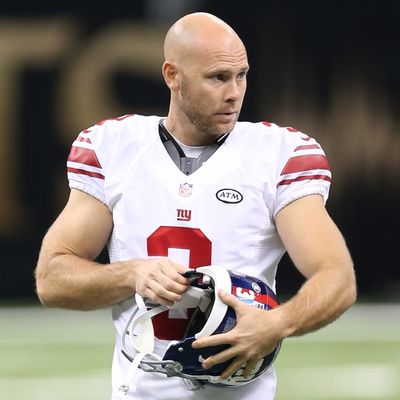 Josh Brown.
Photo: Rob Leiter/Getty Images
New York Giants kicker Josh Brown has reportedly admitted to physically and emotionally abusing his wife in journals, emails, and letters released Wednesday by the Kings County sheriff, SportsNet New York reports.
Brown was arrested in May 2015 and charged with fourth-degree domestic-violence assault over an "incident" in which he beat up his now-ex-wife Molly. The kicker had been suspended from the Giants' season opener as punishment for violating the personal-conduct policy of the NFL. However, newly released journals and emails turned over to the police by Brown's ex-wife show that the alleged abuse was far more than just a one-time thing.
On Wednesday, the Kings County sheriff released 165 pages of documents in which Brown detailed the abuse he put Molly through. Brown wrote in his journal, "I have physically, mentally, emotionally and verbally been an abusive man," and just below that, he circled the words, "I have abused my wife." In a 2014 letter to friends, Brown blamed his abusive behavior on having been molested as a young boy, around 6 years old. He wrote:
"I made selfish decisions to use and abuse women starting at the age of 7 to fill this void. I objectified women and never really worried about the pain and hurt I caused them. My ability to connect emotionally to other people was zero. My empathy levels were zero. Because I never handled these underlying issues I became an abuser and hurt Molly physically, emotionally and verbally. I viewed myself as a God basically and she was my slave."
Brown wrote that he controlled Molly by making her "feel less human" than him, and manipulated her with money. He also said that his stepsons witnessed him abusing their mother. In a 2013 email, he wrote, "I am sure there were several moments of panic for the boys and wondering if they were in a safe place with me."
However, on Thursday, TMZ Sports reported that it obtained official documents, in which prosecutors revealed that they officially decided not to move forward with charges against Brown. The prosecutors allegedly believed that they didn't have enough evidence to convict Brown. "At the time of arrest, he claimed to have grabbed her wrist accidentally rather than intentionally. This cannot be adequately disproved without [the alleged victim's] assistance providing incriminating testimony," they wrote.
The Giants declined to provide a comment to SportsNet, and it is unclear if the Giants or NFL had seen these new documents when looking into Brown's arrest.
This post has been updated to reflect the new TMZ report.