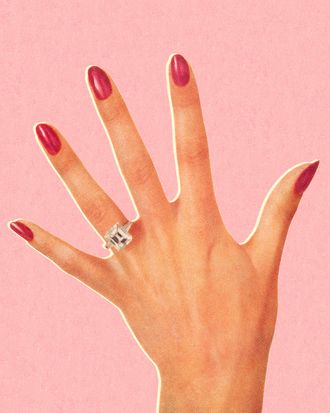 Photo: CSA Images/Getty Images
For reasons unbeknownst to me, soon-to-be married people vie to be part of the New York Times "Vows" column, even though the result of having their wedding covered by the paper of record is typically a swift and sure public roasting. And yet they carry on, determined to have their big days covered in vivid and embarrassing — and accurate — detail. Which brings us to a "Vows" installment from a couple weeks back, an article celebrating the love of Shaun Reed and Cassandra Ilich, which began with a goat and ended with a most satisfying correction.

As Times reporter Vivian Yee pointed out in a tweet, the paper issued the following "extremely Vows correction." It reads:

A listing of highlights about the wedding of Cassandra Ilich and Shaun Reed, featured in the Vows column last Sunday, misstated the number of stones in her engagement ring. It has nine stones, not seven. 
Dreadful. How ever did this get past Dean Baquet?