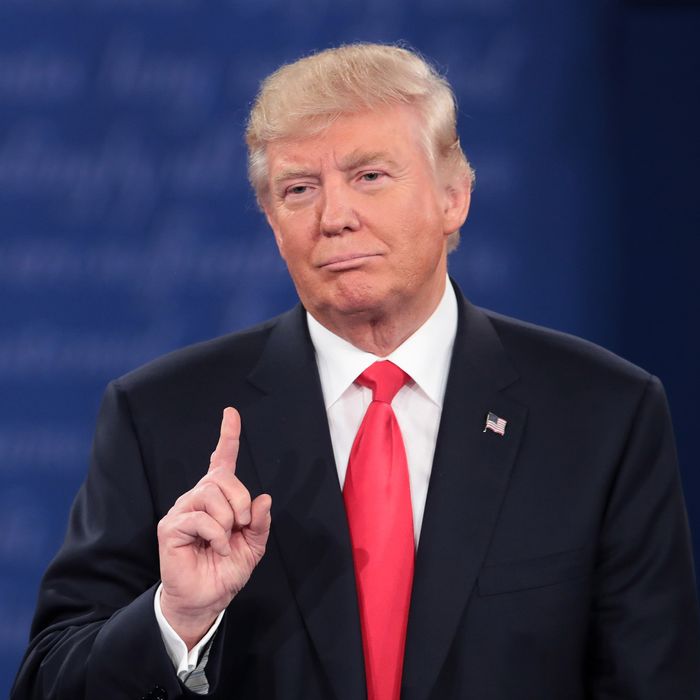 Trump's supporters are trying to silence his accusers.
Photo: Scott Olson/Getty Images
On Wednesday night, at least five women told at least four different news sources that Trump had touched them inappropriately without their consent, and a People reporter came forward with a first-person account of Trump sexually assaulting her in 2005. Two of the women — Jessica Leeds and Rachel Crooks — told the New York Times they felt the need to come forward after Trump lied during the debate.
Trump has vehemently denied their claims; he reportedly shouted at the Times reporter who called to question him and called her "a disgusting human being." He's threatening to file a lawsuit against the Times, and his surrogates have gone on air to discredit his accusers. His supporters have taken a similar tack — on Wednesday night, they started the hashtag #NextFakeTrumpVictim.
Joe Scarborough gave voice to the leading theory in many of these tweets when he said, on MSNBC's Morning Joe, "There have been a thousand of these reports already — I'm just asking why all of a sudden this stuff is blowing up in October."
The Trump camp's argument is that the women's accounts are coordinated and were designed to be released a month before the presidential election, and that the Clinton campaign is using them to deflect media attention from her newly WikiLeaked batch of emails. In other words, they're attempting to bring to life the greatest fear of sexual-assault survivors who choose to speak out against powerful men: that no one will believe them.