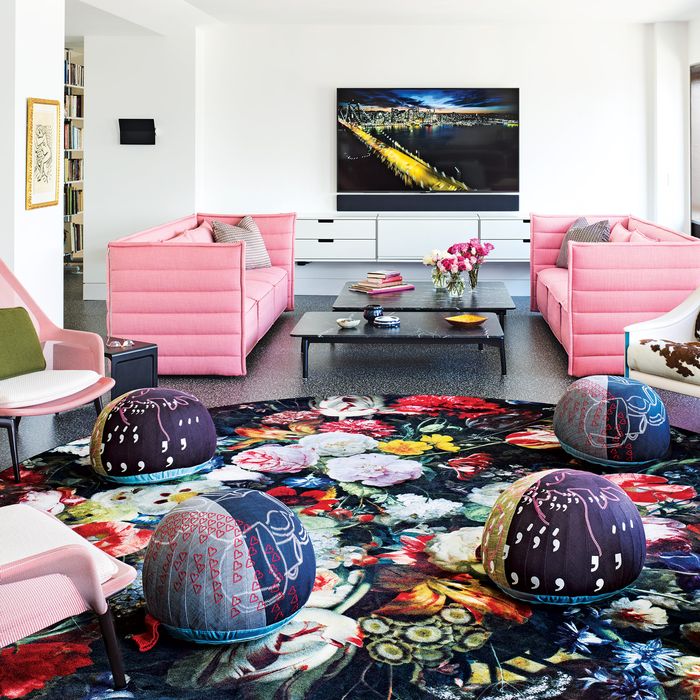 When Nancy Dine was downsizing after 30 years in a West Village loft, things happened fast. "The real-estate market was ridiculous," her designer son Nick says. So they listed it, just to see what they could get — and "it sold in one day." Nancy chimes in, "Then, of course, I had no place to go." They started looking in a hurry, and the fifth place they looked at was a pair of conjoined apartments right across from Lincoln Center. "This was the best in terms of …" Nick pauses. "I mean, it was ugly as hell. But it had the best space for the money." It also had orangey parquet and too many small rooms. Nonetheless, Nick knew what to do: "He immediately said, 'Let's get rid of the walls.' " They started with three bedrooms; they ended up with one.
The renovation contained a few surprises that slowed things down — like interior columns that hadn't been on the building's plans — but some things were a snap. Mother and son did all their shopping in a one-week binge, eschewing custom work in favor of off-the-rack systems and cabinetry. Nick also took pains to eliminate details (like thresholds) that could potentially be a problem as Nancy grows older, and he covered the floor with easy-to-­maintain speckled Marmoleum. "It feels very safe," Nancy notes, "for someone just about to be 80." Downsizing turned out to be surprisingly painless. Nancy donated piles of clothing and kitchenware, and "sold all of my vintage furniture," she says, without any pangs of nostalgia. "It felt really good."
The spacious open plan was a considered choice. At an earlier point, Nancy says, she and Nick had intended to include a study with a sofa. Then she realized something: "I thought, Why the hell do I need a study? Somebody will just want to sleep over. They can sleep on the couch. But they can also" — she points across the street with a smile — "stay at the Empire Hotel."
Renovation Architect: Nick Dine
Built: 1969
Before: Postwar blandness, generic parquet, too-small rooms.
After: A spacious one-bedroom that, along with its occupant, can age gracefully.
*This article appears in the Winter 2017 issue of New York Design Hunting.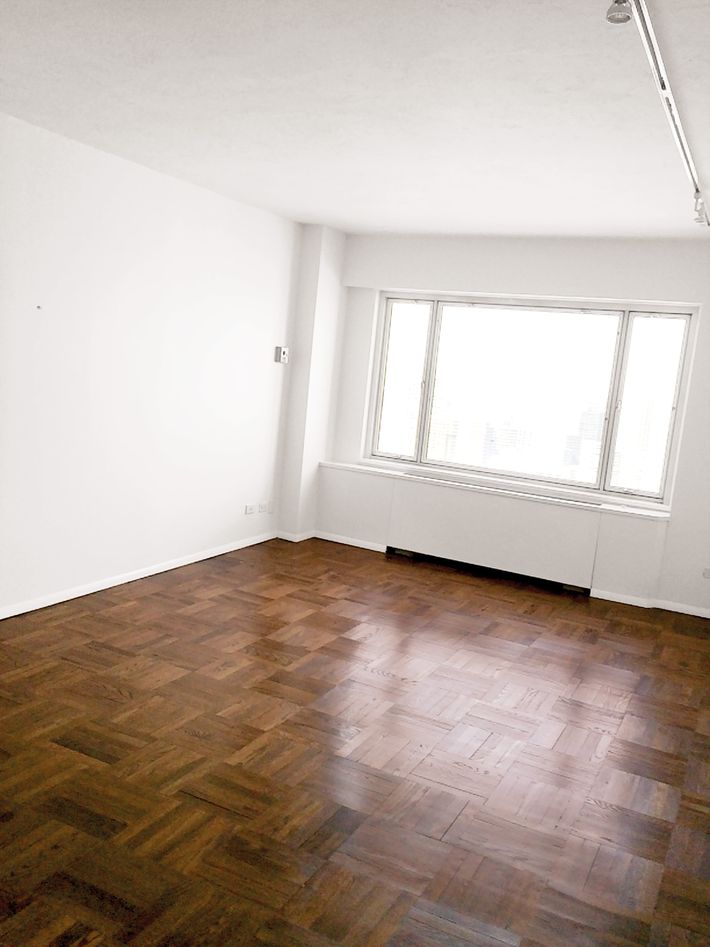 Before
Orangey parquet, eliminated early and decisively.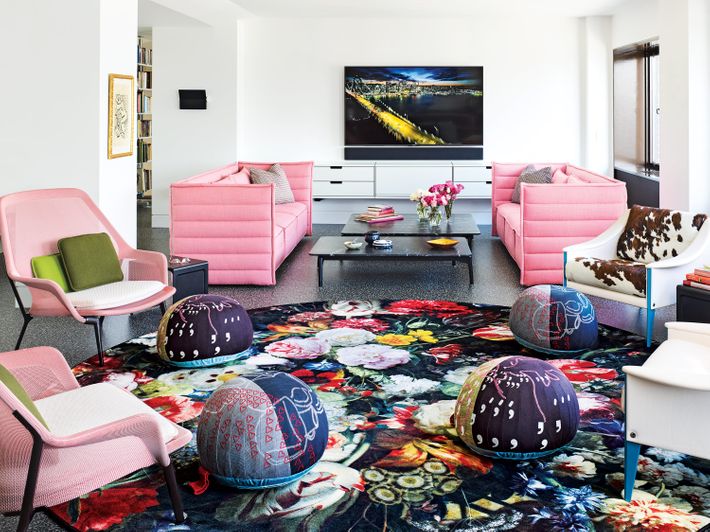 After
Thinking pink: The sofas and chairs are from Vitra, as are the bubble ottomans. The floral carpet is from Moooi by Marcel Wanders, the coffee tables are from Cassina, and the cow-hair-and-white-leather chairs are Poltrona Frau. Dine wrapped the window frames in silvery metallic car-upholstery vinyl in lieu of a multicoat expensive paint treatment.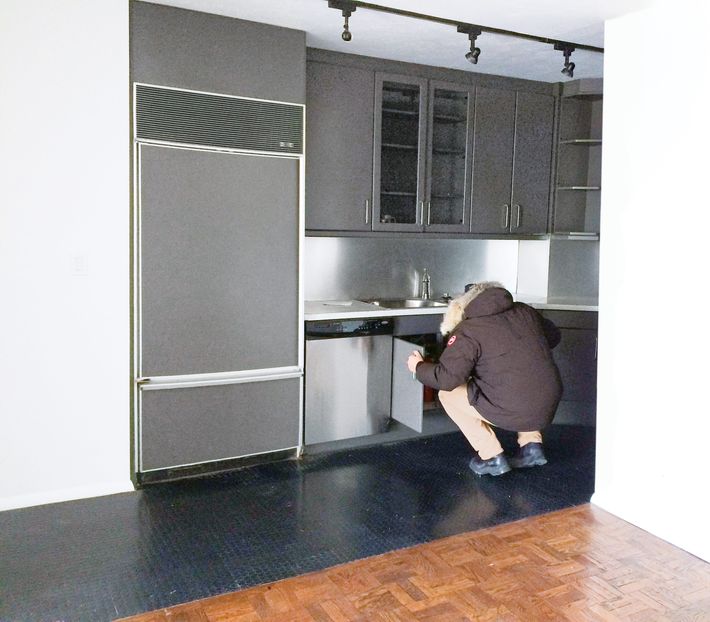 Before
The kitchen as it was: Serviceable but small.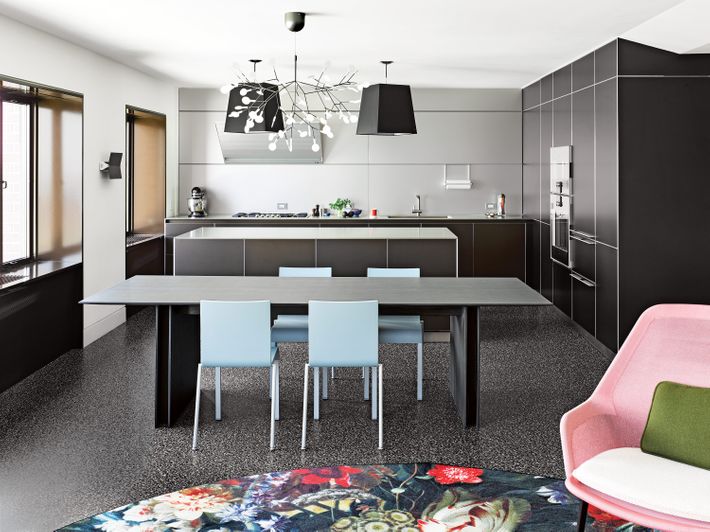 After
Nothing was custom. The table and cabinets are all from Bulthaup, with Vitra chairs and a Moooi chandelier above. As Nancy says, "If you want a Rolls-Royce, you buy a Rolls-Royce — you don't get it made."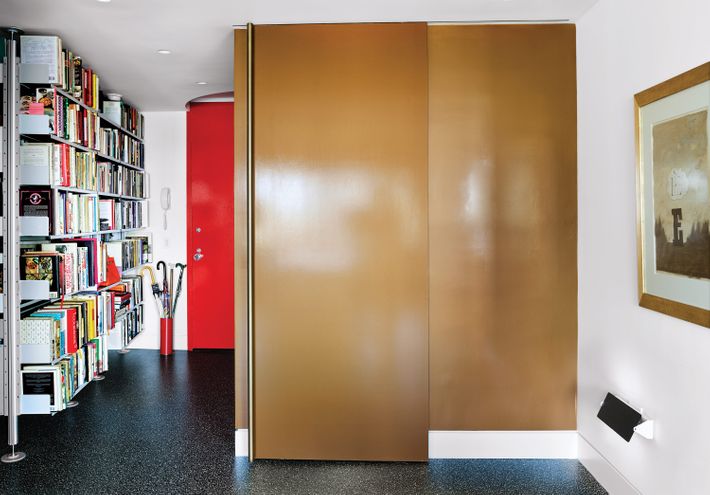 The foyer: Sliding gold panels hide more storage. Nick Dine dropped the ceiling slightly to install lighting, adding a cutout to accommodate the swing of the front door.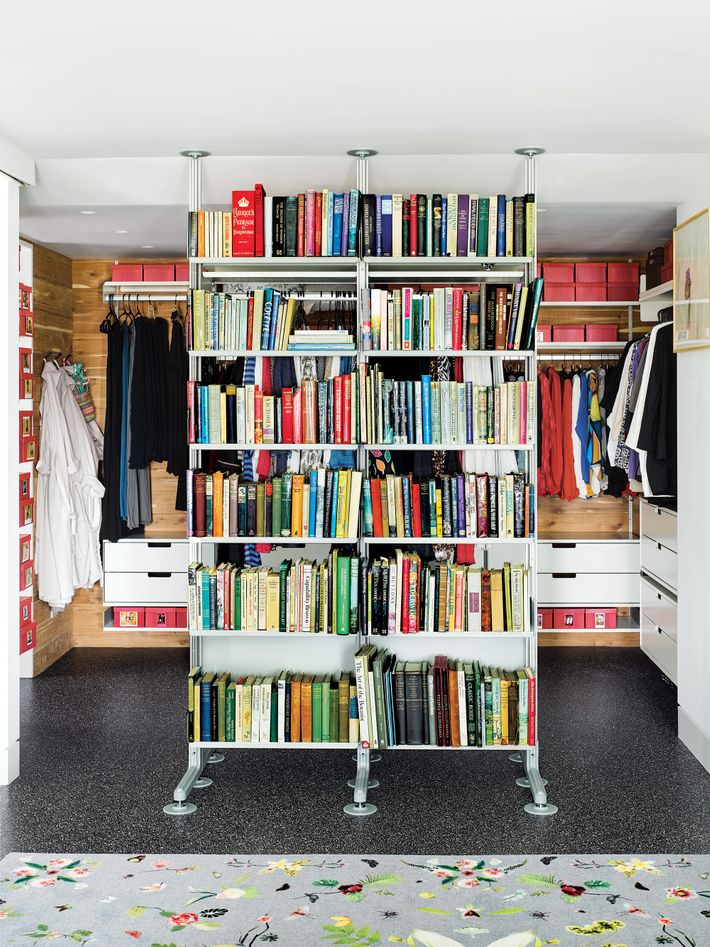 The bookshelves: No custom work for Nancy's library — these shelves are from Vitsoe's system and divide bedroom from open closet. Another set lines the foyer.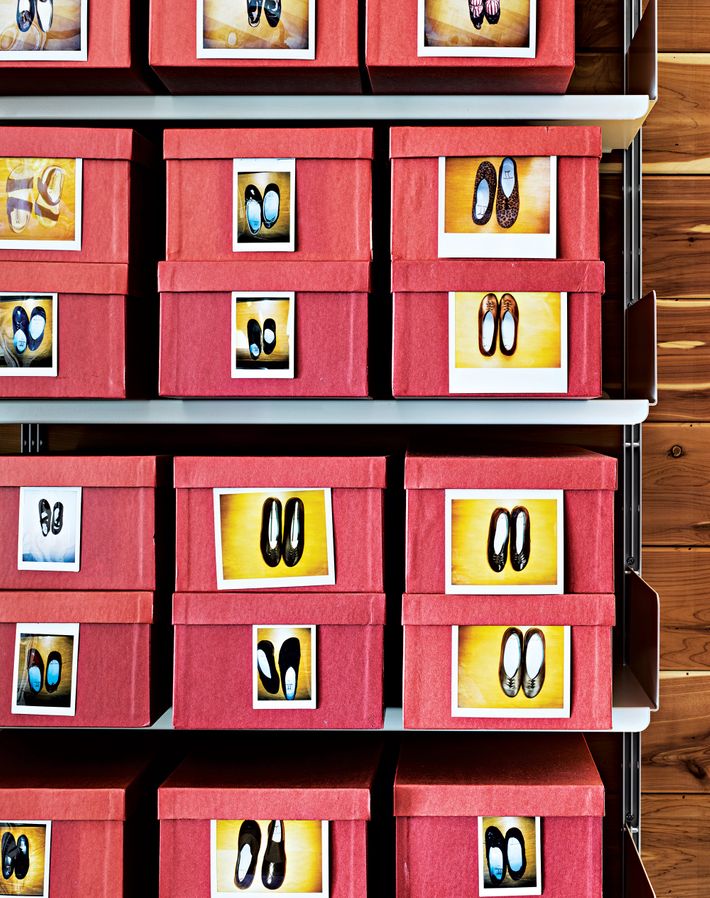 In the open closet: Every shoe box is labeled with a photo of what lies within.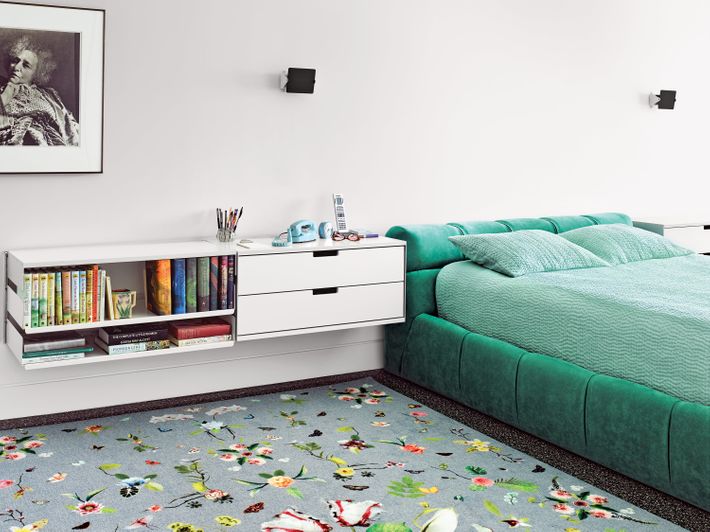 The bedroom: The one exception to the no-custom-work plan is the bed, designed by Dine and built by Dune. The rug is by Marcel Wanders for Moooi. The portrait of Colette is by Irving Penn; the Harry Potter books are there for the grandkids.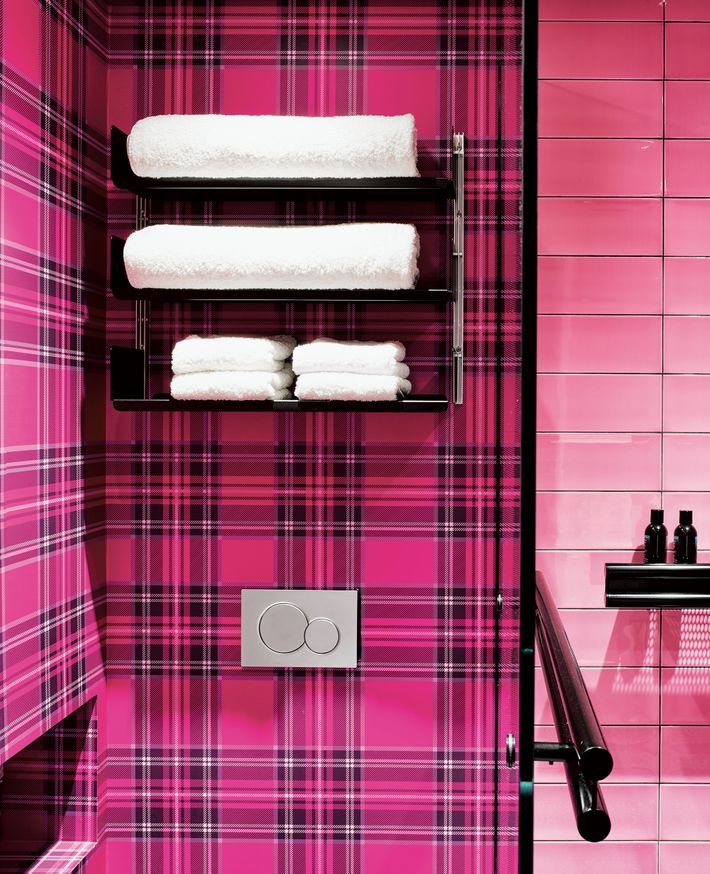 The bathroom: More pink — and more car vinyl, this time deployed as nearly indestructible wallpaper.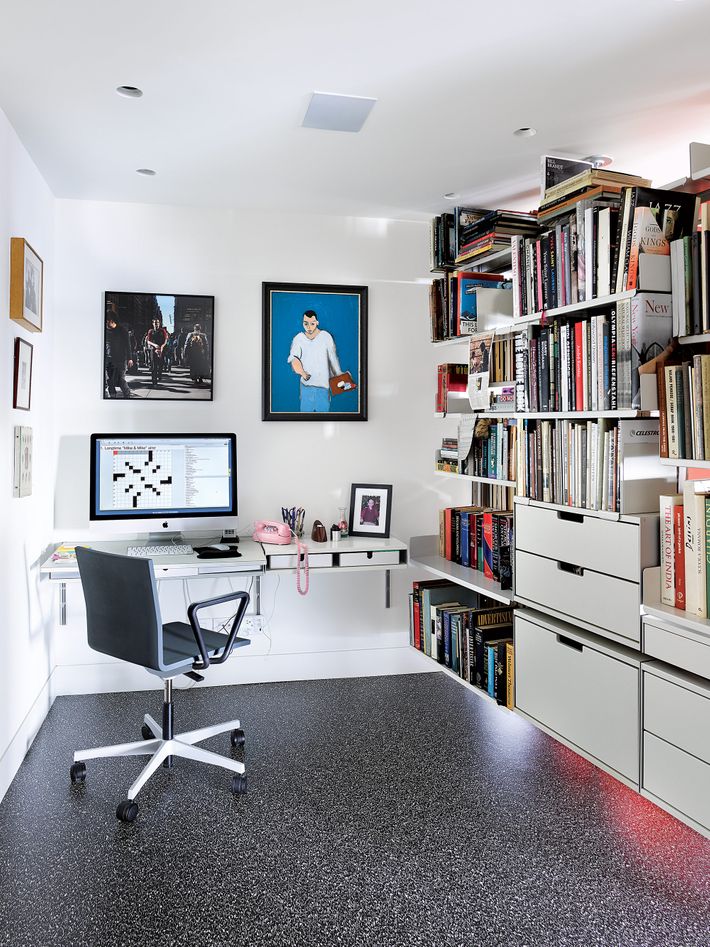 The office: The crisp white office nook contains just enough whimsy: a primitive painting by Nick's sister Nina and a Princess phone (pink, of course).