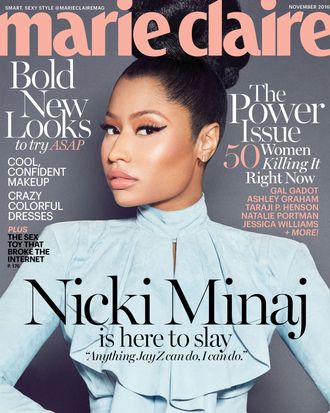 Nicki Minaj, who has not released an album since 2014 (which in retrospect doesn't seem that long but seriously feels like a lifetime!!!!), is on the cover of the November Marie Claire Power Issue. And you better believe she has some wisdom to impart, reminding women everywhere again that they do not need a man to survive:
"Nowadays, I feel like [young women] see marrying into money—I think that's a big thing now. I don't want that to be a woman's goal in life. I want your goal in life to be to become an entrepreneur, a rich woman, a career-driven woman. You have to be able to know that you need no man on this planet at all, period, and he should feel that, because when a man feels that you need him, he acts differently."
Even if Nicki never releases an album ever again, she'll for sure have a lucrative backup career in motivational speaking.