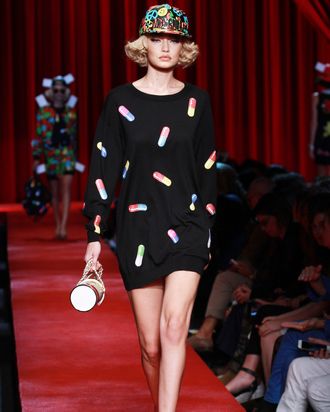 A look from Moschino spring 2017.
Photo: Antonio de Moraes Barros Filho/Getty Images
When Jeremy Scott's pill-themed "capsule" (get it?) collection of see-now-buy-now items walked the Moschino runway last month, it was mostly taken as a kitschy Valley of the Dolls homage. But there's a persistent divide between how the fashion world sees things and how they're perceived by the public at large, and some customers in particular were not thrilled about the line's theme. They saw it as glamorizing our current epidemic of opioid addiction.

After customer complaints, Nordstrom announced Friday that it is pulling the line from stores, according to a report in Fortune. "We appreciate all the constructive feedback we received from concerned customers and ultimately decided to remove the collection from our site and the three stores where we offered it," a Nordstrom spokesperson told the magazine.

The collection is still being sold at Saks, though a Change.org petition is currently up calling for its removal.