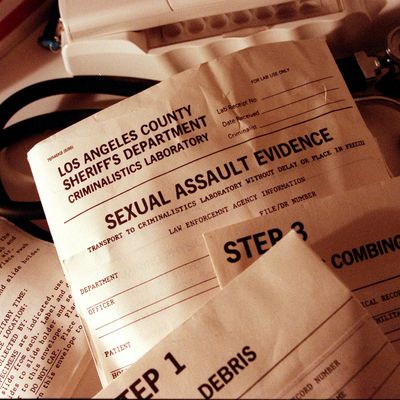 Rape kit.
Photo: Carolyn Cole/LA Times via Getty Images
President Obama on Friday signed a bill that gives sexual-assault victims a basic set of rights under federal law. Under the Sexual Assault Survivors' Rights Act, survivors are now guaranteed access to their rape kits, and states are required to preserve the kits for the entire applicable statute of limitations.
The bill was passed unanimously by the Senate and the House of Representatives in September. It was introduced as a way to standardize how sexual-assault cases are handled across the country. The act ensures that survivors won't have to pay for rape-kit testing and that they will be notified 60 days before their kit is set to be destroyed, among other things.
Senator Jeanne Shaheen, a democrat from New Hampshire, sponsored the bill after meeting with Amanda Nguyen, a Washington, D.C., resident who had been sexually assaulted in Massachusetts in 2013. Even though Nguyen reported the assault and underwent rape-kit testing, she wasn't given any other information about her legal options and has not yet pressed charges, Vox reports.
In Massachusetts, not pressing charges means that the state could destroy her rape kit after six months. So, if Nguyen wanted the option to press charges later, she had to return to Massachusetts every six months to make sure her rape kit was not destroyed. Other states destroy rape kits in even shorter amounts of time, such as only 30 days after an assault in Florida, according to Vox.
"Beginning today, our nation's laws stand firmly on the side of survivors of sexual assault," Shaheen said.