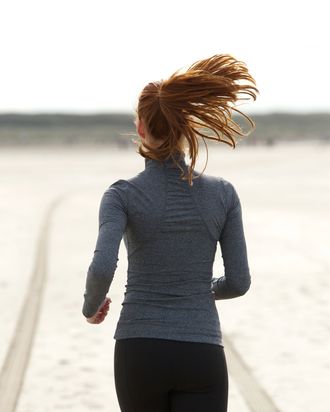 Photo: m-imagephotography/Getty Images/iStockphoto
Over the summer, three young women runners – Vanessa Marcotte, Karina Vetrano, and Alexandra Brueger – were brutally murdered while they were out jogging in broad daylight, all in separate incidents. As a woman around their age who went out running most mornings, the attacks hit close to home and forced me to consider my own safety and vulnerability. When I put a call out for other female runners to share their thoughts and experiences, I received an outpouring of stories about previous run-ins with harassment. A new survey from Runner's World quantifies just how pervasive and gender-based the issue is.

Runner's World surveyed 4,670 runners – 2,533 women and 2,137 men – and found that 58 percent of the women under 30 said they are harassed mid-run always, often, or sometimes. Of all the women who had been harassed mid-run, 94 percent said men were the primary perpetrators and 79 percent said it bothered them.

Most notable is the disparity between how men and women perceive their own safety and create boundaries for themselves while they're running. For instance, when asked to identify with the statement "I run outside at any time and whether it's light or dark doesn't affect my route," 37 percent of men did, compared to only 8 percent of women. 54 percent of women say they are always, often, or sometimes concerned about physical assault when they're going for a run, while a mere 7 percent of men are.

It's no wonder that women are taking such precautions at noticeably higher rate than men: 30 percent of women have been followed (by a driver, pedestrian, or biker) and 18 percent have received a sexual proposition while out running; those rates are 7 percent and 1 percent for men, respectively.