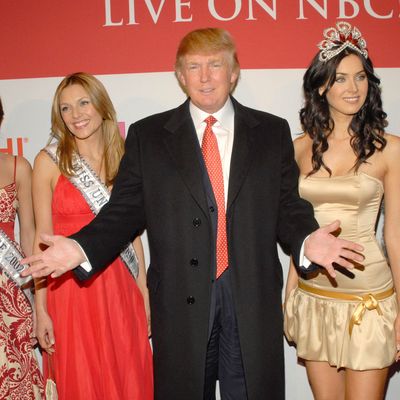 Donald Trump with pageant contestants.
Photo: G. Gershoff/WireImage
Donald Trump's treatment of women has come under special scrutiny since a tape was made public last week in which he brags about sexual assault. And on Wednesday, BuzzFeed News reported that four women who competed in the 1997 Miss Teen USA beauty pageant came forward to describe an incident in which Trump walked into their dressing room while contestants were changing. (The pageant's contestants are between the ages of 14 and 19.)
"When he started running for president, that is one of the first things I thought about: Oh, gross, this guy walked in on us in the pageant," Mariah Billado, a former Miss Vermont Teen USA, told BuzzFeed News. "Girls were just scrambling to grab stuff, whatever garments they had. I remember putting on my dress really quick because I was like, 'Oh my god, there's a man in here.'"
Trump, in turn, said something along the lines of, "Don't worry, ladies, I've seen it all before."
Three other contestants who chose to remain anonymous also remembered Trump's intrusion, and one called it "shocking" and "creepy." "At the time, you're a teenager, you're intimidated — it's Donald Trump, he runs the pageant," said a woman who competed when she was 17. She added it felt like "it was his given right" to walk into their dressing room "because he owned the pageant."
After the initial story ran, a fifth 1997 Miss Teen USA contestant came forward. Victoria Hughes told BuzzFeed News, "We actually never once saw him during the two-week period until he came into the dressing room prior to the show." She said chaperones warned contestants to cover up because they had a visitor, then Trump appeared. "He wished us all good luck, did not stay very long and left," she said. "As teenagers, it no doubt caught us off guard, as the timing of the entrance could've been better and less awkward for us all."
Other former contestants disputed the story, saying there was "too much security" and too many chaperones for Trump to have entered the dressing room. "These were teenage girls," one said. "If anything inappropriate had gone on, the gossip would have flown."
But a former Miss Arizona told CBS that Trump walked in on her and her fellow contestants during a 2001 Miss USA pageant as well. "Our first introduction to him was when we were at the dress rehearsal and half naked changing into our bikinis," said Tasha Dixon, who was 18 at the time. "He just came strolling right in. There was no second to put a robe on or any sort of clothing or anything. Some girls were topless. Others girls were naked." She went on:
To have the owner come waltzing in, when we're naked, or half naked, in a very physically vulnerable position, and then to have the pressure of the people that worked for him telling us to go fawn all over him, go walk up to him, talk to him, get his attention.
I'm telling you Donald Trump owned the pageant for the reason of utilizing his power to get around beautiful women. Who do you complain to? He owns the pageant. There's no one to complain to. Everyone there works for him.
A second Miss USA contestant, who wished not to be identified, also came forward on Wednesday, alleging that, in 2001, Trump walked in as two women were dressing. "Mr. Trump just barged right in, didn't say anything, stood there and stared at us," she told The Guardian. She added, "He walked in, he stood and he stared. He was doing it because he knew that he could."
On an episode of The Howard Stern Show that aired in April 2005, Trump bragged about being able to enter pageant dressing rooms with impunity. "I'll go backstage before a show, and everyone's getting dressed and ready," he said. "I'm allowed to go in because I'm the owner of the pageant, and therefore I'm inspecting it. You know they're standing there with no clothes. And you see these incredible looking women. And so I sort of get away with things like that."
This post has been updated to include accounts from the fifth Miss Teen USA contestant, and the second Miss USA contestant.