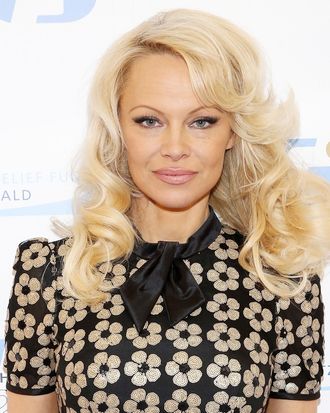 Photo: Robin Marchant/Getty Images for Cantor Fitzgera
Following Anthony Weiner's August sexting scandal, Pamela Anderson and Rabbi Shmuley Boteach took to The Wall Street Journal to encourage readers to take an anti-porn "pledge." They called for a "sensual revolution" and wrote that "we must educate ourselves and our children to understand that porn is for losers — a boring, wasteful and dead-end outlet for people too lazy to reap the ample rewards of healthy sexuality" — an opinion that understandably struck a nerve both inside and out of the porn community.

In a new interview with This Morning, the actress and the rabbi once again reiterated several of the points in their WSJ op-ed. Anderson also shifts some of the blame for the perceived "problem" onto herself, referencing the infamous scandal in which her 1995 private sex tape with then-husband Tommy Lee was leaked. "I know I'm part of the problem," she said. "I should probably disqualify myself from the whole situation because I was in Playboy and I had a tape stolen from my home and exploited all over the world. And people saw things they should have never seen."

The actress also shared the way that she feels pornography has directly impacted her sex life. "I'm a romantic. Have you ever been treated like a porn star in bed? It's no fun at all. Slapped, hit, called names, spit on. That's sex these days," she lamented.

Anderson and Rabbi Shmuley are hardly the first people to raise objections about porn and claim that it's ruining both our sex lives with our partners and our moral fiber, though research doesn't necessarily back up those claims: Recent scientific studies show that porn actually makes men more sexually sensitive and couples more attracted to each other.