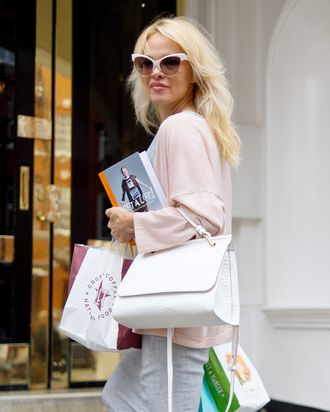 Photo: Ben A. Pruchnie/Getty Images
In a satisfying round of 2016 news Mad Libs, actress and animal-rights activist Pamela Anderson delivered "a nice vegan lunch and some vegan snacks" to WikiLeaks founder Julian Assange at the Ecuadorian embassy over the weekend. Doesn't this make you feel the same way you do when you watch an unlikely animal friendship video about, say, a cat and a goat?

Per the photos of Anderson outside the embassy, the snacks were from the exclusive French eatery Pret A Manger (ooh la la, as they say). She also had Vivienne Westwood's book, Get a Life, in tow; the designer is an ardent supporter of Assange.
Assange, who has been stuck inside the same building for four consecutive years, was reportedly not satisfied with the food. "He said I tortured him with bringing him vegan food," Anderson joked to Britain's Press Association.

Sounds like John Podesta's lame risotto tweet really got to him.