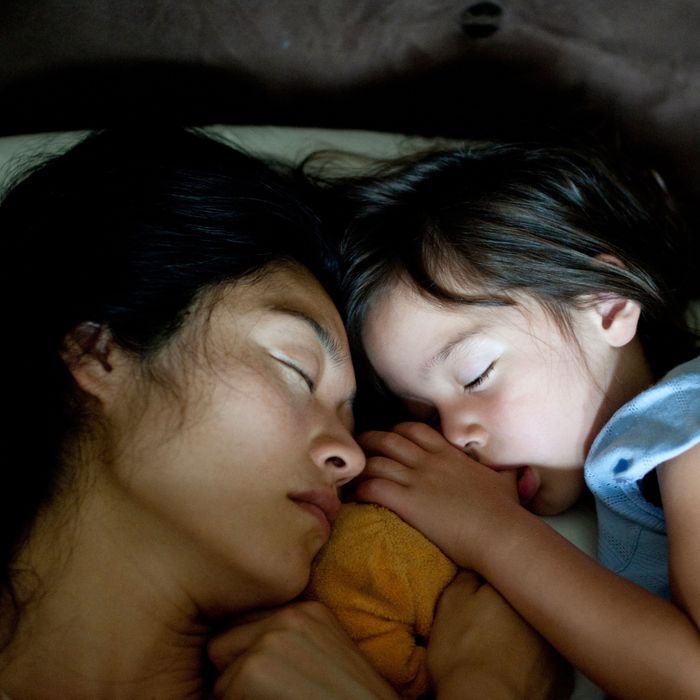 Photo: Peter Augustin/Getty Images
A just-published study in the Journal of Affective Disorders is sure to anger or alarm parents who share their beds with their children. The study, which examined years of data of nearly 4,000 Brazilian children from the age of 3 months to about 6 years, found that bed-sharing was a "common practice" — and that it was "associated with impaired child mental health at the age of 6 years."
The researchers identified four types of families at different stages: those who never co-slept (just over 44 percent of the families); those who bed-shared only during the early part of the child's life (36.2 percent); late-onset bed sharers (12 percent); and persistent bed-sharers (7.4 percent). The study found that "persistent and early-only bed-sharers presented increased odds of internalizing problems at 6 years when compared to non bed-sharers." So what does that all mean?
Well, first, there were a few limitations to the study. Though they corrected for factors such as socio-economic status, maternal mental health, and excessive crying (which is obviously its whole own thing), the researchers didn't know why the mothers chose to bed-share, and they recognized that those reasons themselves might affect mother's interpretations of their children's behavior.
At a follow-up when the children had reached 6 years of age, psychologists used the Development and Well-Being Assessment (DAWBA) questionnaire to evaluate and generate computer results for each child. Psychiatrists then assessed the results, looking for evidence of either externalized disorders — ADHD, conduct disorders, behavioral problems — or internalized disorders like a range of anxiety and depression problems.
They found that slightly more than 10 percent of non bed-sharers had a diagnosed psychiatric disorder, while the percentages were 13.2, 15.8, and 18.8 among late-onset, early-only and persistent bed-sharers, respectively. The researchers go on: "the prevalence of internalizing problems increased from 7.0 percent to 9.3 percent, 11.5 percent, and 15.0 percent, respectively among non bed-sharers, late-onset, early-only and persistent bed-sharers; whereas prevalence of externalizing problems was 3.1 percent, 3.7 percent, 5.6 percent, and 4.5 percent, respectively."
So while bed-sharing correlated with a higher prevalence of mental health issues overall, it was especially linked to internalized disorders like anxiety and depression.
If you co-sleep, this might make you nervous, although it's worth noting that the results conflict with a few other studies that have been done in the past, which found no increase in mental health or behavioral problems in children who co-sleep (though they did find a higher incidence of sleep problems). For what it's worth, the Brazilian study did back up previous research that found that co-sleeping mothers overall breastfed more and for longer than those who did not bed share. The researchers note that this new study is one of just a few to examine the issue in depth, though it's quite large and comprehensive. There is clearly more work to be done.