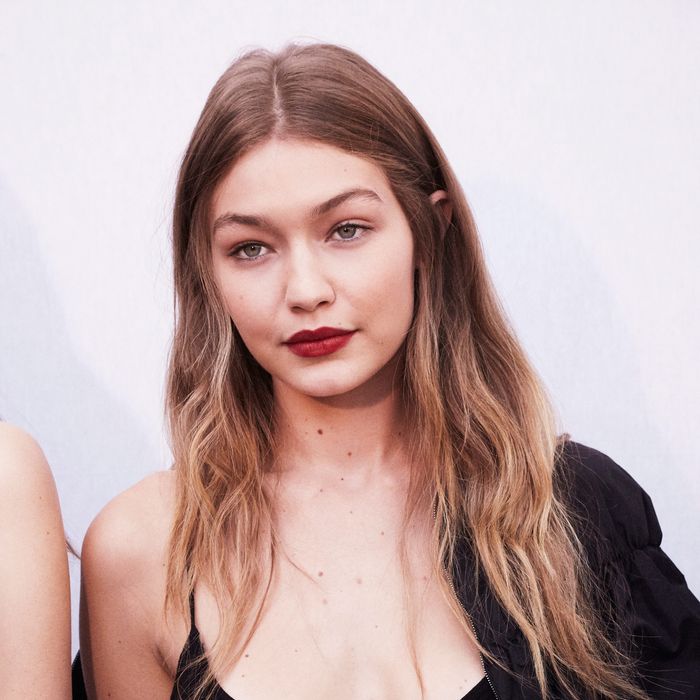 Gigi Hadid got a soft tomato-red lip at Giambattista Valli.
Photo: Christine Hahn
In between all of the green juice backstage at Paris Fashion Week (don't worry, there are still éclairs), there's been rainbow glitter, metallic lips, and X-rated hair gel. But not every look is impossible to replicate at home. Here are five of the best beauty secrets I learned from backstage at Paris Fashion Week.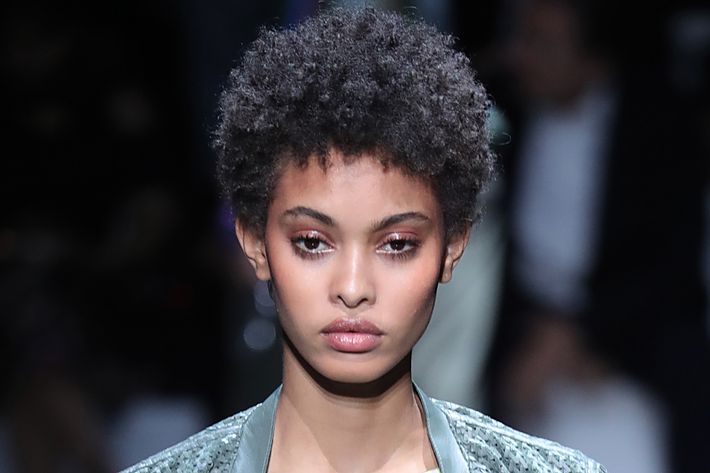 1. How to get a glow without that unnatural bronzer line: "Mr. Armani hates blush here," said makeup artist Linda Cantello, gesturing to the side of the nose. To create a beauty look inspired by nomadic travelers and one that pleased Mr. Armani for Emporio Armani, Cantello placed a bronzer-blush combination along the sides of the cheeks and above the apples, and added a few softly blended dabs in the temples. "For a long time, nobody went near the temples because it was kind of '80s. "But I think it's very weird when you have tan and it just goes eeep," Cantello said, making a slashing motion along the cheekbones, adding that when the sun naturally gives your face some color, it includes the temples. As she said this, I recalled that my blush stopped exactly at my cheekbones and vowed to add a light dusting of bronzer to the temples tomorrow. Cantello finished the look with the same sheer wash of color (Rouge D'Armani Sheer in Shade 204) on the eyelids and lips.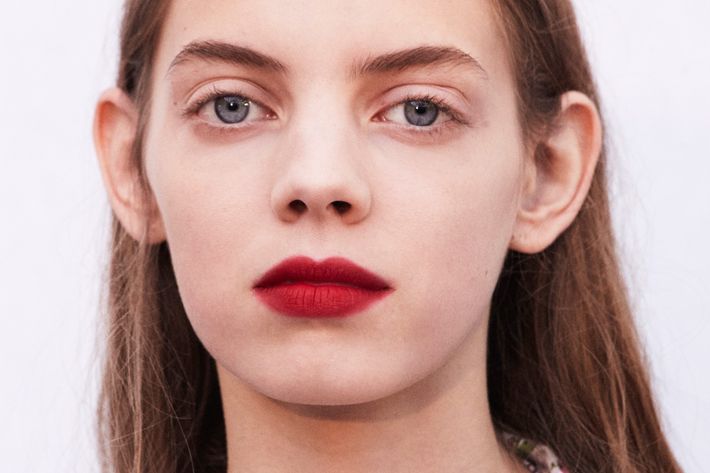 2. How to get the prettiest red lip: Nine lucky girls at Giambattista Valli got a soft tomato-red lip, among them Gigi Hadid. Makeup artist Val Garland for M.A.C Cosmetics used a blend of Just Add Romance Velvet Tease Pencil and Feels So Grand Retromatte Liquid Lipstick customized to each girl's skin tone. Garland started with the pencil, and then used a large, fluffy brush to blend the edges and the corners of the lip.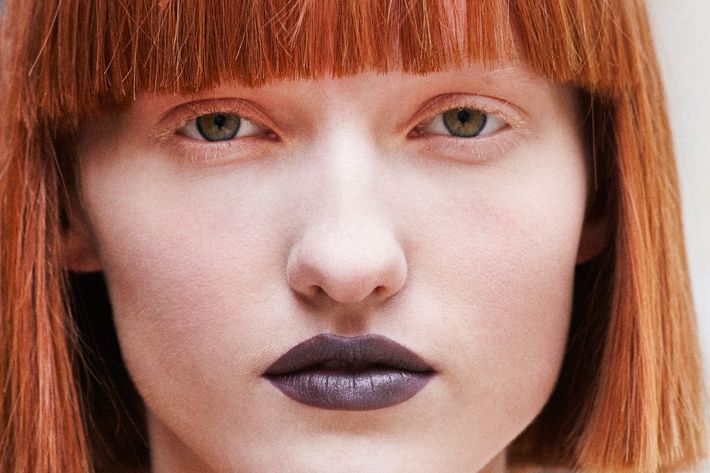 3. How to use your flatiron to get the shiniest hair: At Acne, hairstylist Eugene Souleiman and his team spent three hours flatironing the models' hair. I watched them for nearly two and half hours, as they laboriously cut extensions and meticulously straightened hair so that each model received a super-shiny, almost-unreal-looking head of smooth, silky, futuristic hair. "More unreal!" is something I heard Souleiman say over and over again, asking his team to make the hair look so perfect that it almost looked fake. Souleiman explained that the trick when using the flatiron is less tension at the root (so you don't get an awkward bend) and to comb the hair into the straightener, so you "feed the hair like a sheet."
To pair with the "unreal hair," makeup artist Aaron de Mey created a taupe-y mushroom-lavender metallic lipstick. Yes, it sounds like a lot (and de Mey admitted it probably feels very dry), but the strange color is purposely "left of center," as de Mey described it, and mesmerizing because it's unlike anything you've ever seen before. Deep Rooted lipstick from M.A.C (Smoked Purple from M.A.C for girls with darker skin) was used as a base, followed by Dazzle and Stolen Moment Extra Dimension eye shadows.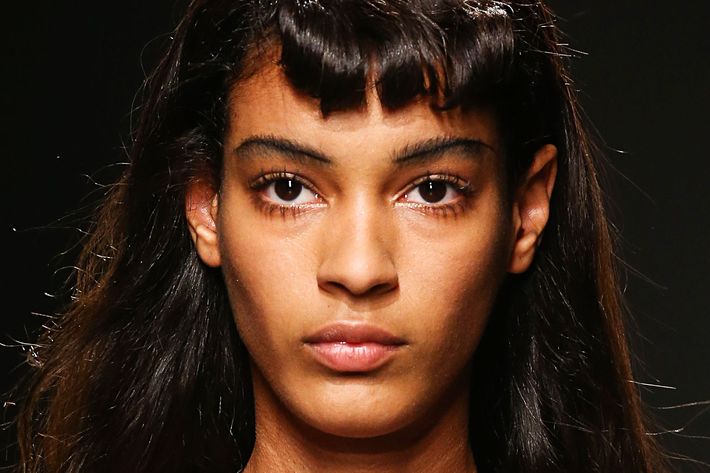 4. How to make your eyes look bigger: Not eyeliner, not white eye shadow, and not even regular mascara — makeup artist Lucia Pieroni at Rochas recommended "clumpy mascara" to open up your eyes. "When you mascara the way most people do normally, you create a fan shape, so you can't see [the eye] behind it. But when you squish [the lashes] together, you can see the space behind the lashes. If you have good, long eyelashes, it's amazing." Using a waterproof mascara (Clé de Peau Beauté's Perfect Lash Mascara), Pieroni does three coats of mascara, then a slight windshield-wiper technique to get a few of the lashes to stick together in clumps.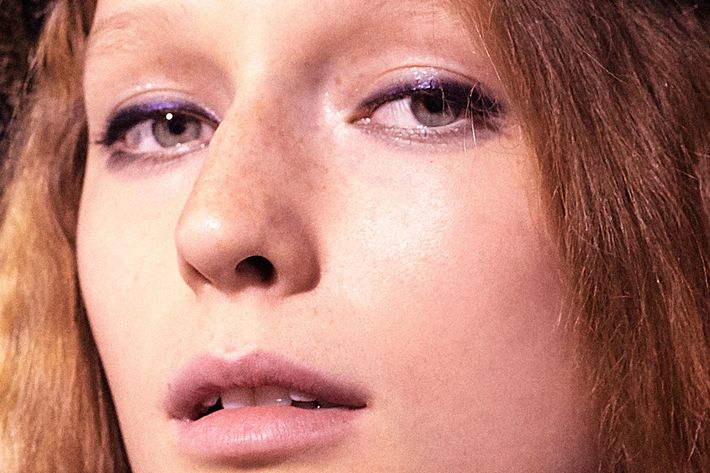 5. How to make your eyeliner more intense: At Sonia Rykiel, Lancôme creative director Lisa Eldridge provided a visual reminder of how to intensify your eyeliner. She used a little art brush with water and the sparkly navy-blue color from Lancôme's Saint Germain Palette with Sonia Rykiel. "It goes on much more intensely when it's wet," says Eldridge.