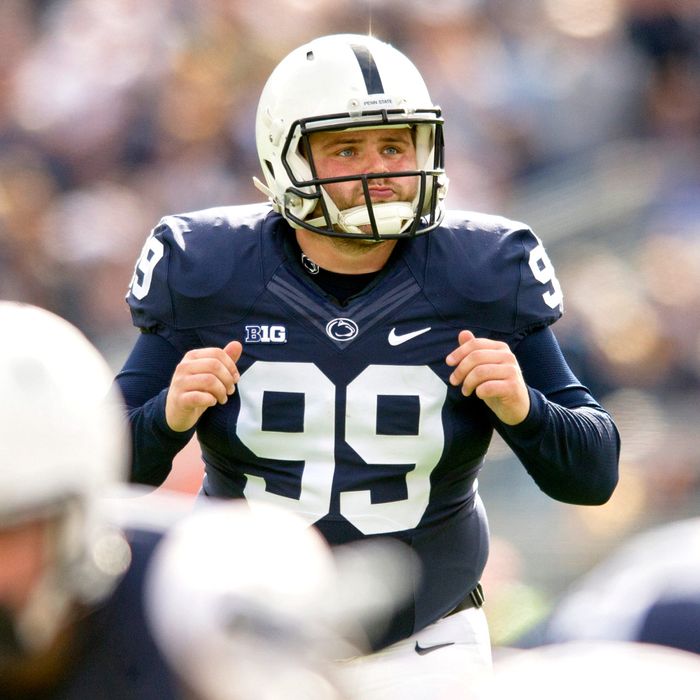 Joey Julius.
Photo: Abby Drey/TNS via Getty Images
Penn State kicker Joey Julius revealed earlier this week that he's lived with a binge-eating disorder for the past 11 years. Since he opened up about his struggles in a moving Facebook post, his football coach and teammates have spoken out in support of their kickoff specialist.
In his Facebook post, Julius explained that he had been in a three-month treatment program for a binge-eating disorder this summer. The kicker said he decided to seek help after team physicians noticed an increase not only in his weight, but also in his depression and anxiety. "They all noticed that I was not myself and that I needed extensive care such as the program in St. Louis that I attended this summer," he wrote.
The day after Julius's statement, head coach James Franklin told Penn Live that he's "very proud" of the kicker. "I know this is something that probably affects and helps others, to see athletes, or someone in Joey's position, make himself vulnerable and put himself out there. I think a lot of people connect to that," Franklin said.
Likewise, quarterback Trace McSorley told Penn Live that Julius has the entire team's love and support. "We knew he was dealing with something, we didn't know exactly what it was," McSorley said. "We're excited for him to be able to make that step, be able to move passed it, and be able to do a great job for us on the field."
Julius's treatment ended on July 26, and he is back to playing with his team. Penn State next goes up against the University of Maryland this Saturday.