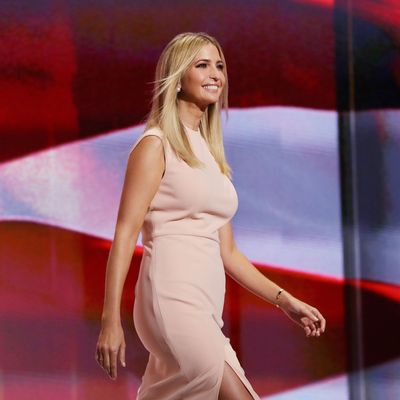 Ivanka Trump in her own design at the RNC.
Photo: Joe Raedle/Getty Images
Unhappy with Ivanka Trump's continued support of her father's campaign, Shannon Coulter looked to the so-called power of the purse. Coulter, a technology-and-media-marketing specialist in the Bay Area, tweaked Trump Sr.'s "locker-room talk" and created the hashtag #GrabYourWallet to hit Ivanka where it hurts — her $100 million clothing and accessories business. (The stores carrying the line include Macy's, Nordstrom, Amazon, Lord & Taylor, Marshalls, and Zappos.)
Coulter told The Guardian that Trump's infamous Access Hollywood tape was the breaking point for her: "If Ivanka Trump had distanced herself from the campaign I would not be boycotting her. But something changed for me when that tape was released," she said. Thus far, her posts have been viewed over a million times and she's received 50,000 responses, many from women who have been longtime customers and are resolving to stop buying the line. Some are calling out the stores as well, like the posters below:

This isn't the only controversy the line has found itself embroiled in this election cycle. Ivanka Trump has been sued by shoe brand Aquazzura for allegedly copying one of their designs, criticized for wearing a dress from her line that was made overseas to the RNC, and slammed by a former employee who says Trump's company didn't offer maternity leave. We've reached out to a spokesperson for Ivanka Trump for a comment on #GrabYourWallet, and will update this post when we hear back.