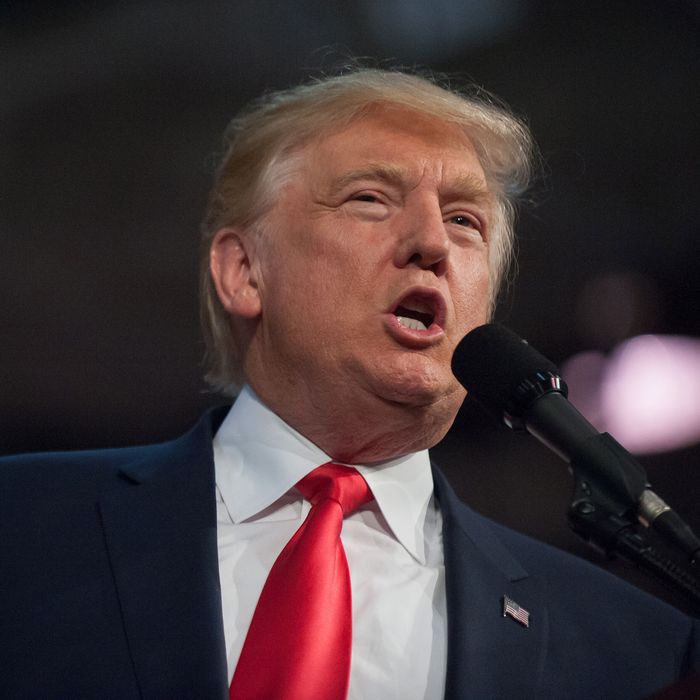 Donald Trump.
Photo: Jeff Swensen/Getty Images
It's only been a few days since news broke of the 2005 video showing Donald Trump boasting about groping women without their consent. That prompted Anderson Cooper to ask Trump during the town-hall debate if he's ever done such things. Trump denied it, but on Wednesday evening multiple news outlets published accounts from women who accuse Trump of groping and kissing them without their consent. Now, a writer at People magazine has written her own account of how Trump assaulted her and forcibly kissed her in 2005.

Natasha Stoynoff, a staff writer at People, had been assigned to cover Trump on numerous occasions for the magazine, and in 2005 she was assigned to interview Trump and his wife, Melania, on their one-year anniversary. She writes that she went to Mar-a-Lago for the interview and walked into a room alone with Trump after he told her he wanted to show her around the Florida mansion.
Then, she writes, this happened:

We walked into that room alone, and Trump shut the door behind us. I turned around, and within seconds, he was pushing me against the wall, and forcing his tongue down my throat.

Now, I'm a tall, strapping girl who grew up wrestling two giant brothers. I even once sparred with Mike Tyson. It takes a lot to push me. But Trump is much bigger — a looming figure — and he was fast, taking me by surprise, and throwing me off balance. I was stunned. And I was grateful when Trump's longtime butler burst into the room a minute later, as I tried to unpin myself.
Trump reportedly acted cavalier about what had just happened and said that the two were going to have an affair. She writes, "'You know we're going to have an affair, don't you?' he declared, in the same confident tone he uses when he says he's going to make America great again."
When Melania entered the room, Trump proceeded with the interview. Afterward, Stoynoff says that she told a colleague, but decided not to go to management. Instead she minimized the incident, blaming herself for the episode or writing it off as part of the risks associated with the job. "In time, I chalked it up to one of the hazards of a rollercoaster ride of celebrity journalism," she writes. She later asked to be taken off the Trump beat altogether.
Update: On Thursday morning, Trump responded to the allegations on Twitter, as he is known to do.