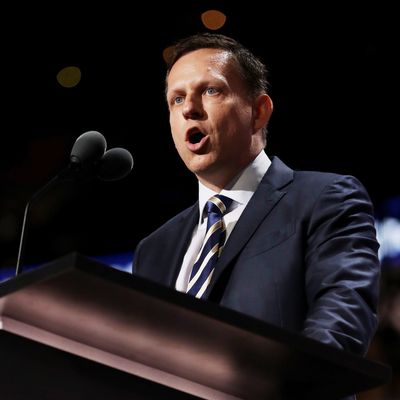 Peter Thiel speaks at the Republican National Convention.
Photo: Chip Somodevilla/Getty Images
In the 1990s, Peter Thiel — the Silicon Valley mogul who just donated $1.25 million to Donald Trump's presidential campaign — co-wrote a book called The Diversity Myth: Multiculturalism and Political Intolerance on Campus. The book's purpose was to critique the culture on Stanford University's campus, including the way it treated rape and sexual assault.
In it, Thiel wrote that the definition of rape had mistakenly been expanded to include "seductions that are later regretted. "The purpose of the rape crisis movement seems as much about vilifying men as about raising 'awareness,'" he wrote.
The book originally resurfaced in connection to Thiel's massive campaign donation, which he made after more than half a dozen women came forward to accuse Trump of sexual assault. But in a statement to Forbes magazine on Tuesday, Thiel apologized for its contents.
"More than two decades ago, I co-wrote a book with several insensitive, crudely argued statements," he said. "As I've said before, I wish I'd never written those things. I'm sorry for it. Rape in all forms is a crime. I regret writing passages that have been taken to suggest otherwise." According to Forbes, he declined to comment further.