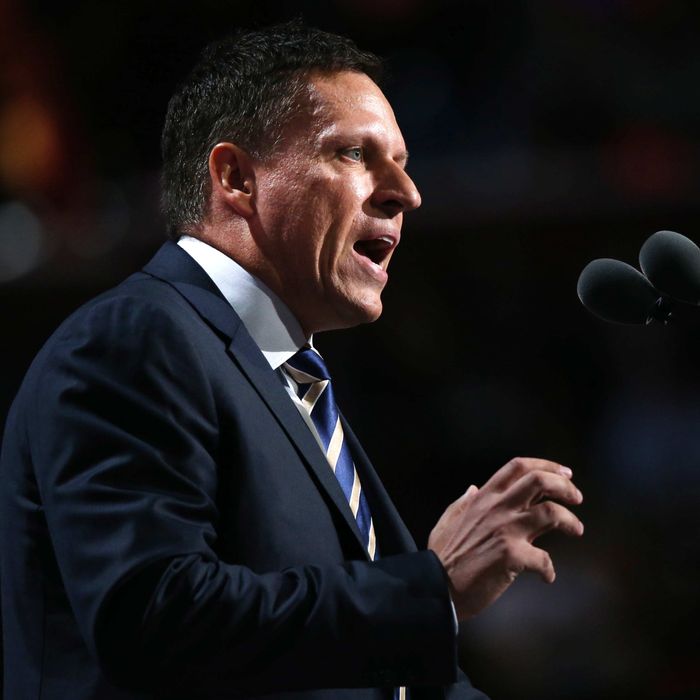 Peter Thiel speaks at the Republican National Convention.
Photo: Daniel Acker/Bloomberg via Getty Images
This week, the New York Times announced that Peter Thiel — PayPal founder, Facebook investor, and billionaire — would donate $1.25 million to Donald Trump's presidential campaign. Thiel's support for Trump was pretty much assumed; he was a keynote speaker at the Republican National Convention, where he expressed his enthusiasm for the GOP and its candidate. But at that time, he hadn't donated to the campaign.
Facebook employees were so offended by the news that Mark Zuckerberg addressed them directly, saying Thiel's decision didn't mean that the investor was "accepting sexual assault." But in a book Thiel co-wrote with fellow Standford and PayPal alum David O. Sacks, he expressed views on rape that seem to align more closely with Trump's than with those who have accused him of sexual assault.
The book, The Diversity Myth: Multiculturalism and Political Intolerance on Campus, was published in 1996 and is dedicated to critiquing political correctness on Stanford's campus. Thiel and Sacks said the definition of sexual assault was erroneously expanded to include "seductions that are later regretted," according to The Guardian. They went on:
But since a multicultural rape charge may indicate nothing more than belated regret, a woman might 'realize' that she had been 'raped' the next day or even many days later. Under these circumstances, it is unclear who should be held responsible. If the alcohol made both of them do it, then why should the woman's consent be obviated any more than the man's? Why is all blame placed on the man?
They concluded, "The purpose of the rape crisis movement seems as much about vilifying men as about raising 'awareness.'"
In a New Yorker profile more than a decade later, the author wrote that the book "now seems to cause Thiel mild embarrassment." "All of the identity-related things are in my mind much more nuanced," Thiel said. "I think there is a gay experience, I think there is a black experience, I think there is a woman's experience that is meaningfully different." He did not specifically address his stance on rape and sexual assault.
The news of Thiel's million-plus-dollar donation came just after several women publicly accused Donald Trump of sexual assault. Since then, more than half a dozen women have said Trump touched them inappropriately or kissed them without their consent. Trump has vehemently denied the allegations.