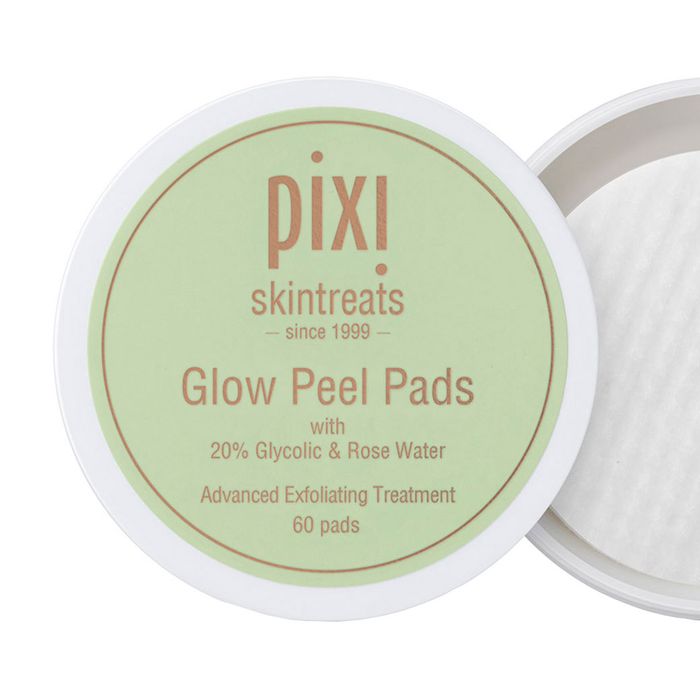 Let's talk about acids: The strings of molecules that band together to form skin care's greatest exfoliators are often misunderstood. For one, there are just so many. And the name, acid? Terrifying. Despite the fact that skin experts often recommend chemical exfoliants over their granular scrub counterparts (acids, they say are more efficacious at smoothing skin and safer), acids are wildly underused. Alas, here's a starter acid that will hopefully change a few minds.
Pixi's Glow Tonic reached iconic cult status in the U.K. years ago. The 5 percent glycolic acid toner wooed many a beauty editor and blogger, and when it finally arrived stateside last year, the pint-sized liquid exfoliator was often sold out. Pixi's newer Glow Peel Pads are an extension of Glow Tonic's legacy in delivering smooth skin, but they are so much better.
Unlike Glow Tonic, the pads are composed of 20 percent glycolic acid. For the uninitiated, glycolic acid falls under a category of acids known as "alpha-hydroxy acids." Each of the alpha-hydroxy acids works to remove dead skin cells that can render complexions dull, in addition to reducing hyperpigmentation (dark spots) and smoothing the appearance of wrinkles (increased cellular turnover boosts collagen production, which makes skin more plump). That the Glow Peel Pads carry a higher percentage of glycolic acid translates into a more intense exfoliation of skin, providing faster and more dramatic results.
You can use the pads daily or a few times a week, after your nighttime face wash. Consistent use is important however, and because glycolic acid increases skin sensitivity, daily sunscreen use is essential. The formula's blend of rose water, vitamin E, and aloe attempts to stave irritation, but a slight "tingly" sensation is nearly unavoidable. For sensitive skin, rinse your face a few minutes after swiping the pads around your face. More durable complexions, on the other hand, should be fine after a few minutes when the tingles subside.
Above all else, the pads soften skin immediately. Frequent use sloughs away dark spots in a few weeks, and overtime, skin looks naturally illuminated. Pixi's Glow Peel Pads are a work of art, but at $22, it's a blessing they don't cost as much as one.
Pixi Glow Peel Pads, $22 at Target.