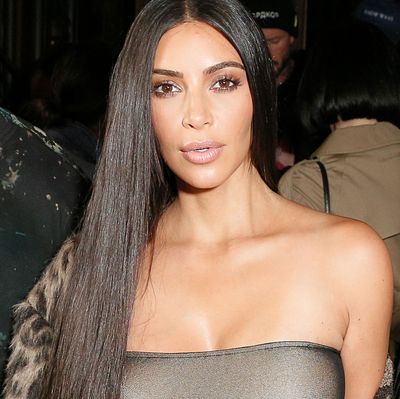 Kim Kardashian.
Photo: Matteo Prandoni/BFA.com
Police in Paris are now saying that Kim Kardashian's social-media presence made her an easy target for the robbers who held her up at gunpoint in her Paris residence before making off with more than $10 million worth of jewelry.
A key part of Kardashian's brand is her openness about her private life, not only on her E! reality show, but also on Instagram, Twitter, and Snapchat. While in Paris for Fashion Week, Kardashian continually posted about her activities, what she was wearing, and which shows she was attending. The chief spokesperson for the Paris police department, Johanna Primevert, believes Kardashian was targeted as a result, according to CNN.
"It was really the celebrity who was targeted, with possessions that had been seen and noticed via social media, and it was these goods that the attackers targeted," Primevert told CNN.
Kardashian and her family have apparently decided to cut back on their public presences, and modify their approach to social media, after the Monday attack, People reports. The robbery has also prompted Kardashian to beef up her security team, and to revaluate unnecessary risks, such as making public appearances.
"When something like this happens everything changes. Everything will change. It changes the whole family — how and where they travel," a source told People. "[Kim] will reassess traveling for work and feeling safe."
Since the robbery, the Kardashian-Jenner clan has been conspicuously silent on social media. Kylie Jenner was the first of the sisters to return to social media on Tuesday, with a throwback Instagram post of a beach.