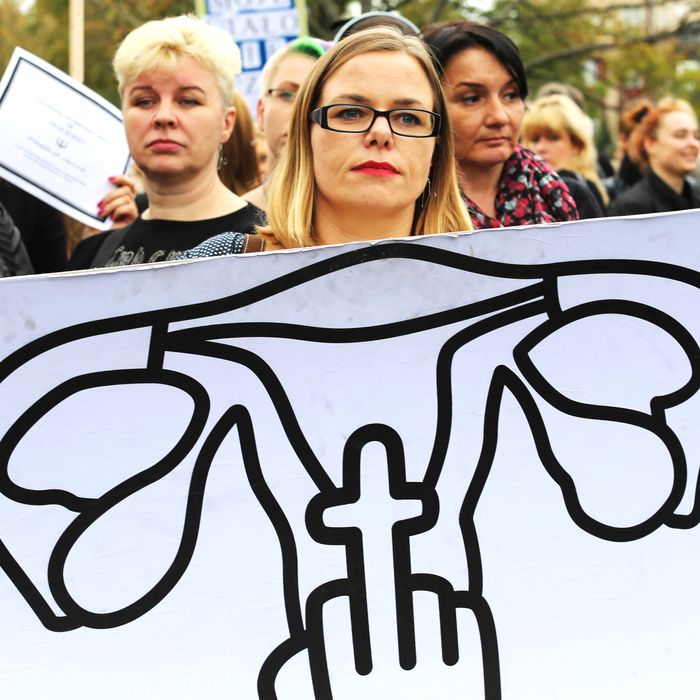 Women in Poland took to the streets on Monday.
Photo: Pacific Press/LightRocket via Getty Images
Women in Poland took to the streets on Monday dressed in black to protest a new total anti-abortion bill. Poland already has one of the most restrictive abortion laws in Europe, and the proposed restrictions would criminalize any form of abortion, even in instances where the mother's life is in danger, according to the New York Times.
Protests broke out in 90 cities across Poland during so-called Black Monday, which saw people skipping work to wave black flags and draw international attention to the proposed ban. The event's Facebook page said 116,000 people across the country participated in the protests, while the mayor of Warsaw said the capital drew in 24,000 protesters.
The Black Monday protest was inspired by Icelandic women who, in 1975, apparently paralyzed their country by not going to work and refusing to do domestic tasks in order to protest unfair employment practices and wages. The protests began two weeks ago, but Black Monday was the "highest point" of the protests, the Times reports.
Under Poland's current abortion law, abortion is permitted in three instances only: severe fetal abnormality, when the mother's life and health is in danger, or pregnancy stemming from rape or abuse. However, the proposed legislation, written by a group called Stop Abortion, would criminalize all abortions, with women, doctors, and anyone who assisted the procedure facing up to five years in prison.
"This is a barbarian proposal that will move Poland back to medieval times. The worst thing is that this barbarity finds approval in the eyes of those in power," the leader of liberal initiative Save Women, Barbara Nowacka, told the Times.
However, Foreign Minister Witold Waszczykowski said the protesters could "have their fun" but otherwise dismissed their concerns. "There is no such problem as a threat to women's rights. If someone thinks that there are no greater concerns in Poland at the moment, let them be," he said in a radio interview, per the Times.