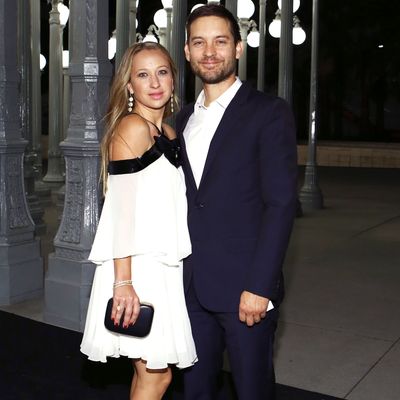 Jen Meyer and Tobey Maguire.
Photo: Rich Polk/Getty Images for LACMA
Tobey Maguire, an actor and original member of Leo DiCaprio's Pussy Posse, is separating from his wife after nine years of marriage. He and his estranged wife, Jen Meyer, a jewelry designer, announced the news with a joint statement to People.
"After much soul searching and consideration we have made the decision to separate as a couple," the statement reads. "As devoted parents, our first priority remains raising our children together with enduring love, respect and friendship." Maguire and Meyer have two children: Ruby, 9, and Otis, 7.
There haven't been any recent tabloid rumors about Maguire and Meyer, but Maguire was spotted partying with DiCaprio quite a bit this summer. Maguire and Meyer were last seen together at a Roe Caviar event in Los Angeles a week and a half ago, though they did not pose for photos together. Meyer posted a photo with her friends Kate Hudson and Sara and Erin Foster instead.