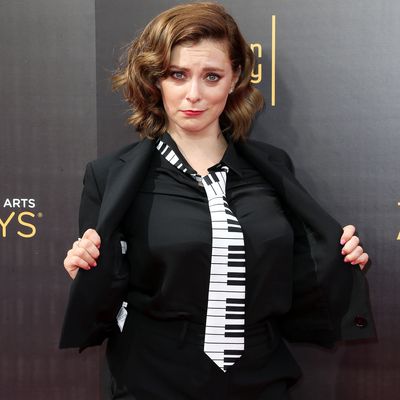 Photo: Frederick M. Brown/Getty Images
There are so many reasons to love Rachel Bloom's Crazy Ex-Girlfriend, but a major part of the show's charm is protagonist Rebecca Bunch's delightful relatability. A lot of that is captured in the show's musical numbers, from "The Sexy Getting Ready Song" to "Heavy Boobs," as well as the messy self-esteem problems and general dysfunction that was revealed over the course of the first season.
Bloom, herself, also seems like she'd be great to hang out with in real life. She sat down with Billboard to talk about everything from the song playing when she lost her virginity to what she'd like to be played at her funeral, but it's this nugget about the Golden Globes after-party that really clinched our love for her.

"There was so much music blasting at all these events. My problem if I'm going to listen to music, I want to actually listen to music. Just like if I want to dance, I want to dance. At events where dancing is not the primary activity and there is music playing, I have a real old lady problem with it. If it's an event where you want to be talking to people and music is blasting, it's like what are we doing? [Turn] the music down."
Hey, if wanting to hear what your friends are saying at a party is an old-lady problem, sign us up for the AARP.
The second season of Crazy Ex-Girlfriend premiered on the CW Friday night.