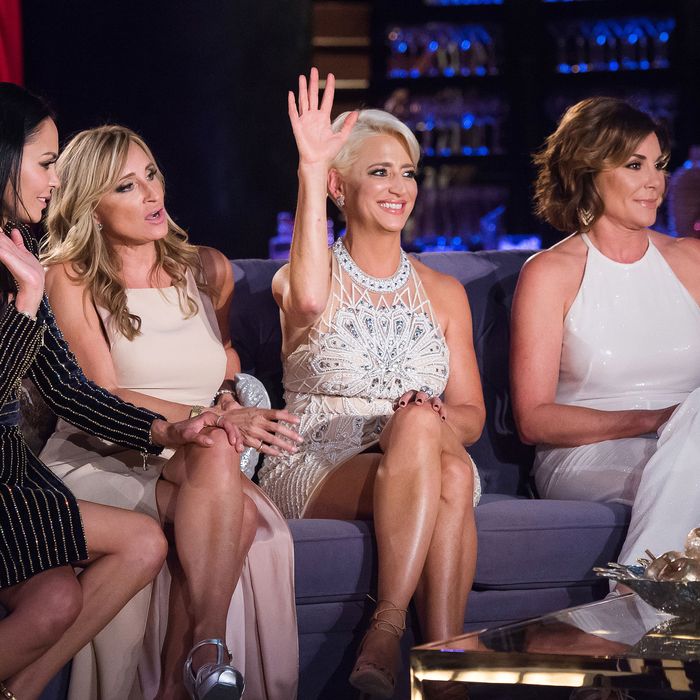 Jules Wainstein, Sonja Morgan, Dorinda Medley, and Luann de Lesseps.
Photo: Charles Sykes/Bravo
On Monday night, Real Housewife of New York Dorinda Medley reportedly caused a scene. According to "Page Six," she got into an argument with real-estate investor Harry Dubin at the Regency Hotel, and then she hit investment banker Sylvester Miniter IV with her high heel when he tried to intervene. "Page Six" reports:
Multiple witnesses say Medley had come from a well-lubricated lunch at Le Bilboquet before she started inexplicably screaming at Harry Dubin. "Harry walked into a s - - tshow," said one source. "When Sylvester tried to be a peacemaker and told Dorinda she was being inappropriate, Dorinda, who had her shoes in her hand, tried to spike him in the head with a high heel."
The "Page Six" sources say Medley's dry-cleaner boyfriend John Mahdessian then showed up to take her home. Medley's spokesperson, meanwhile, told "Page Six" that Medley did not attack anyone. "It was her late husband's birthday. She'd been at his grave all day, and it was just too much for her," the spokesperson said. "She took her shoes off because her feet hurt."
This is all completely devastating, because Bravo's cameras were not there to capture any of it. The most recent season stopped airing last month, and Bravo won't film a new season for months. Medley's alleged scene could fuel at least ten episodes. Some facts:
1. Harry Dubin, the real-estate investor on whom Medley allegedly and inexplicably unleashed fury, has slept with at least three New York Housewives.
2. The Regency Hotel, where this tussle allegedly took place, is the same sad site where New York Housewife Luann de Lesseps's fiancé Tom D'agostino cheated. (New York Housewife Bethenny Frankel got pictures of it.)
3. I don't know who Sylvester Miniter IV is, but his wife, Gillian, looks like she could be a New York Housewife, if she wanted.
4. She took off her shoes because her feet hurt!!!
The Real Housewives of New York should be filmed 24 hours a day, seven days a week, and aired constantly like Big Brother. Thank you.