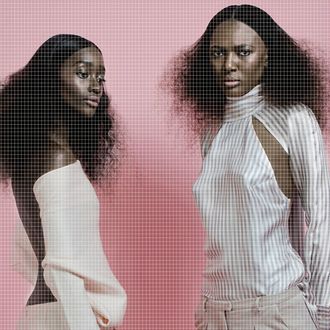 Photo: Courtesy of Omindi
Taking Care of Business: a week devoted to taking our professional lives up a notch.
Designers have all sorts of ways of describing their work, but Recho Omondi cuts right to the chase: "I want to do a bunch of weird-ass, cool shit."
Omondi is the real deal, and she's unapologetic about doing things her own way. She doesn't show at Fashion Month, and she's frank about how her background and approach to business set her apart in the industry. Based in New York, she's found a way to merge her city life with the influences of her childhood and her African heritage into a womenswear line that is both beautiful and strong in construction and design.
Growing up in the Midwest and spending time with her family in Africa warranted Recho a point of view with refreshing depth and perspective. "I grew up in the trenches of White America — deep in it," she says. "I didn't realize, at the time, how much traveling I was actually doing. My family moved around a lot, and I had family in different places — they were in Paris, they were in Belgium, they were in Stockholm. And then I got older and realized that there are a lot of people who've never been anywhere. And you just realize how limited people are."
"My childhood was a contrast of being a 9 year old and spending months in a city like Nairobi [where] everyone's black, and then going back to Oklahoma, and everyone is a very particular breed of white," she goes on. "It's like going from a hot tub and jumping into a swimming pool. And I couldn't articulate to anyone what my life was like when I was in the other place."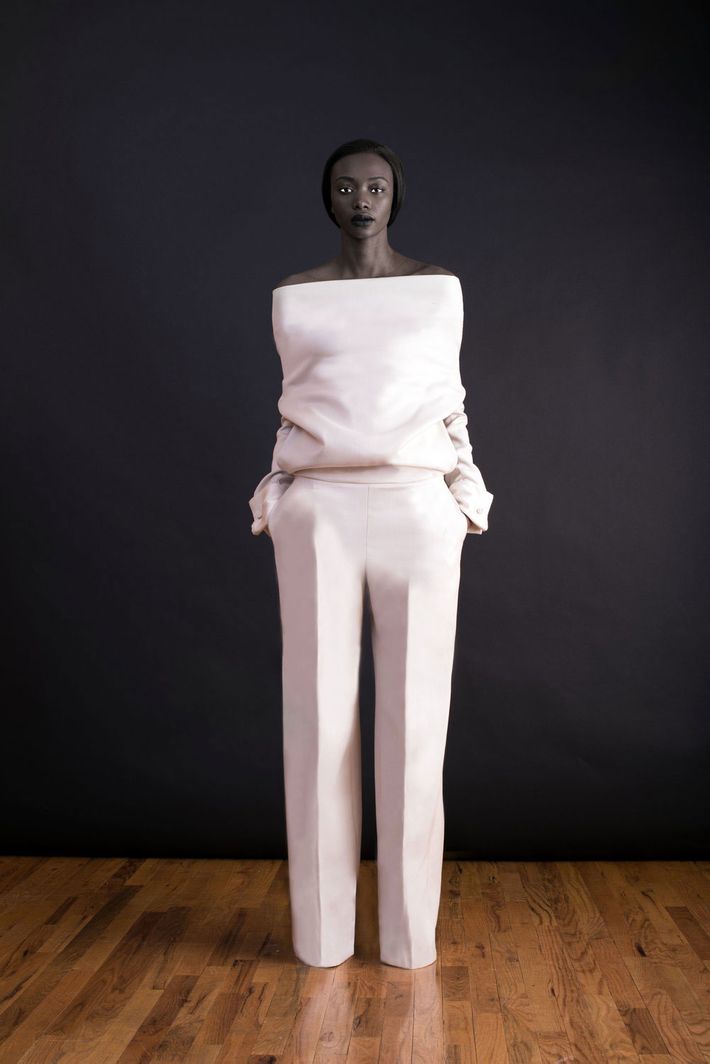 She says things didn't exactly come together for her after graduating from Savannah College of Art and Design. "I always knew I wanted to be a designer, but I didn't know how to do it or when it was going to happen. I assumed that I wasn't going to start until much later, like in my 30s or something. I always wanted to be super seasoned and would say, 'I'm going to go to Ackermann and be like 40 when I finally hit my stride.' Then I realized I'm not trying to wait that long, but it was gradual."
After working as a pattern maker and doing sales for brands, she decided to try nannying and create her own pieces on the side. "I knew that if I was going to start something for real, then I had to be able to have flexible hours. I was on a plane one day talking to the girl next to me who went to NYU, and she was telling me about her nanny job and how good the money is, so when I got back to New York I started immediately. I could be in my studio, do my thing, and support myself financially. In a sense, I quit fashion so that I could do my own fashion."
In 2014, Recho was able to launch her namesake brand, which she describes as, "really just making stuff for myself in my apartment." But as she went about her nannying job, people would ask her where she got her clothes. "It'd be funny because I'd be wearing all these cute outfits and driving a Range Rover and picking up kids from school. Not my car. Not my kids. But my designs."
In a sea of designers who borrow heavily from each other and struggle to find their own identities, Recho isn't afraid to stand out. "The product is one thing but storytelling is a separate thing because I've just been so bored; everything I see is boring to me. Especially for someone who loves fashion, paying attention to it for so long, I just got to a point where everything I saw around me was wack. Even when it comes down to campaigns, it was just boring. So for me it was a question of what do I want to do, or what do I want to say, or what do I want it to feel like?"
In distancing herself from the industry's traditions — look books, showing at Fashion Week, etc. — Recho has found her sweet spot. Her brand is accessible but special because it isn't on everyone. "At first I did a show, but it just wasn't for me," she says. "I just wanted to see a bunch of black girls in pastels because it's winter and I fucking hate winter." She says that while she takes her business seriously, it never made sense to follow the conventional path. "I feel like so many young designers just pour money into this idea of trying to keep up and stay alive and look like they have everything together and that's so gnarly. We're not doing that."

Most people, she says, try not to think about the business side of starting a fashion brand. And it's true — most profiles of designers share information about their rise to fame, which celebrities they've dressed, and what connections they've accumulated along the way, but rarely do they ever mention the challenges of producing all on your own.
"The thing about this fashion game is," says Recho, "you have to pay to play." Everyone in fashion knows this, but we don't often talk about the way it makes the industry so exclusive. "I think it's so crazy that there are so many brands and designers who have come across funding and then they have the nerve to do the same basic, boring thing we've already seen."
Recho doesn't plan to change now that she herself has investors. "I have this side of me that loves pristine, indulgent element of fashion, and the unattainable. To be able to say, 'I have this and you can't get this.' But I also have this other side of me that loves things to be soulful, real, things that are true to life and gritty."
"I'm Kenyan," she goes on, "and the brand is autobiographical in a way. A lot of it is how I would see it in my world. When I had my first show, my train of thought at the time was living in this dream world, of all black girls. I love black girls. And I also like dark-skin black girls. I'd Photoshop the girls to look darker than they really were just because there's not enough love for us out there. Forget what guys think about your skin tone — I wanted to talk to black girls directly and tell them that they are the most poppin'. I want black girls to feel good about themselves."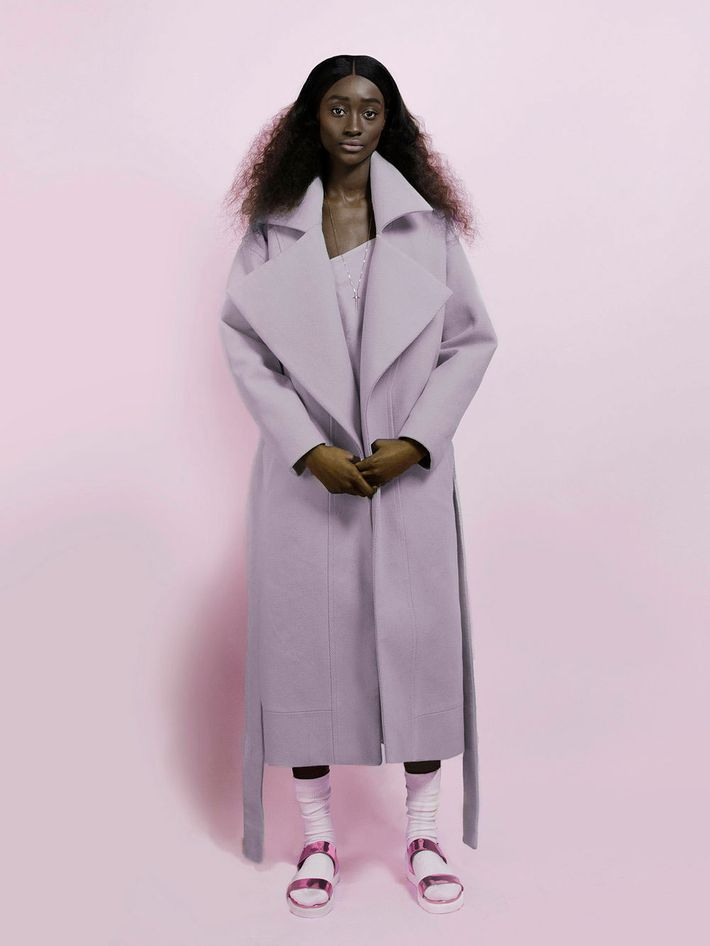 In the end, she says, "I just want to tell the story that feels accurate to me. I just don't want to ask anybody to do anything I want to see for myself. Meaning, like, if Prada or whatever brand doesn't want to use any black girls, yeah, that's fucked up, obviously. But at the same time, I want to be able to get to a point where I can have my own creative freedom and my artistic expression. If that means you only see black girls in my brand, then so be it. I should be able to do that. And that's how I want to be able to tell my story. Because that's the way I see it, in my head."