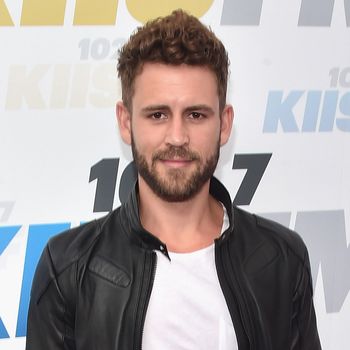 Nick Viall.
Photo: Alberto E. Rodriguez/Getty Images
The Bachelor is currently filming its 21st season, featuring software salesman and longtime franchise personality Nick Viall, 36. Nick has already appeared on two seasons of The Bachelorette and one season of Bachelor in Paradise, and he apparently also has an active romantic life when cameras aren't rolling. According to a new report in Us Weekly, Nick slept with one of this season's contestants before the show even started filming.
An "insider" tells the tabloid, "During the first day of taping, all of the girls came out, and he actually had slept with one of them at a wedding and never called her again."
This woman's appearance on the show was a bummer for Nick, who reportedly expressed a preference to meet shiny new ladies only. Another insider tells Us Weekly that Nick told Bachelor producers he "didn't want any girls on the show that he already knew or had a date with," because he felt "it was a waste of a person being there."
Attention, women: If Nick has already met you, he's not interested. Attention, Nick: You're a great guy.