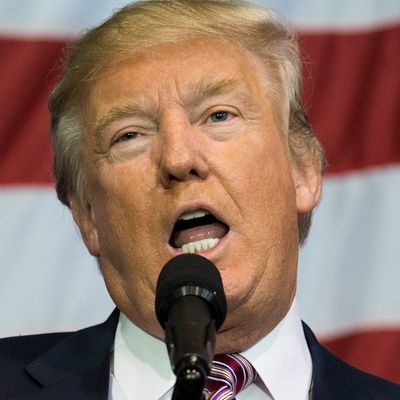 Donald Trump, Representative Brian Babin
Photo: Getty Images
During Wednesday night's presidential debate, Donald Trump uttered the "such a nasty woman" heard 'round the world. His dig at Hillary Clinton immediately set off a social-media firestorm and inevitably inspired merchandise, but some of his supporters are somehow standing by his comment. Take Republican representative Brian Babin of Texas who, per CNN, appeared on "The Alan Colmes Show" on Thursday night to double-down on what Trump said.
When Colmes asked Babin if he thought that Trump calling Clinton a "nasty woman" was appropriate, he demurred, "Well, I'm a genteel Southerner, Alan." But being pressed again, Babin admitted, in a line straight out of a terrible porn script, "I think sometimes a lady needs to be told when she's being nasty."

After listening to the tape over and over, the most incisive political commentary I can offer right now is: gross.