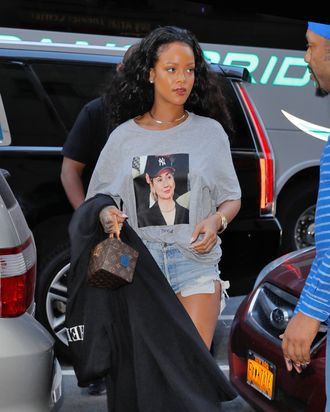 Rihanna.
Photo: Jackson Lee / Splash News/Jackson Lee / Splash News
Rihanna is a fashion maven if there ever was one. And if we can make a judgment from her latest outfit, she's not afraid of making a not-so-subtle political statement with her clothes as well. On Wednesday evening, on the eve of the final presidential debate between Hillary Clinton and Donald Trump, Rihanna stepped out in New York wearing what looks to be a custom-made T-shirt that's screen-printed with a photo of Clinton wearing a New York Yankees baseball cap.

Perhaps this means we can assume that RiRi is team #ImWithHer?