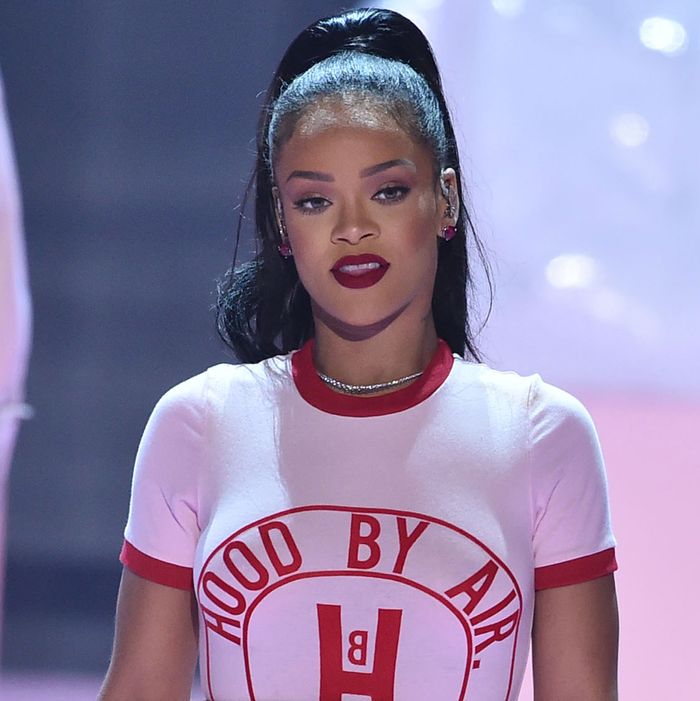 Rihanna.
Photo: Theo Wargo/MTV1617/Getty Images for MTV
Shirlene Quigley, a 32-year-old backup dancer who has worked for the likes of Beyoncé, Rihanna, Missy Elliott, and Jamie Foxx, has gone missing. Quigley was last spotted boarding a bus to an unknown destination at Port Authority on Saturday around 1:00 a.m., police told People. By Monday night, Missy Elliott and Rihanna had both posted on Instagram, asking for the public's help in finding Quigley.
Quigley performed in Rihanna's "S.O.S." video, as well as in several other live shows for her and other pop stars. And as the news of her disappearance spread, Rihanna had only sweet words to say about her former dancer on social media. On her Instagram account, Rihanna shared a video of Quigley speaking to the camera and explaining how much she cares for the people in her life, even if she may not know them very well. "I know people probably think I'm crazy because I'm always telling everyone, 'I love you! I love you!'" she says in the video. "Because the minute that I meet somebody I do love them because I know in my heart and in my spirit that that's my brother and my sister, that's my neighbor." Rihanna's post also asks that any of her followers with leads contact the North Bergen Police Department from New Jersey, where Quigley resides.
Quigley, who was last seen wearing a pink jacket, jeans, and 3-4 inch heels, had apparently been acting strangely just prior to her disappearance. While her phone has since been found in a bridal shop in Chelsea (where her father says she could have been picking something up for a show), there are no solid leads. Her father immediately suspected something was amiss after he didn't hear from Quigley the following day, given that the two spoke on a regular basis. He also told police that Quigley made a strange comment to a friend recently that went something like, "Get ready, it's about to happen and I'm going to need you to sub for me." It's unclear what she was referring to specifically, and police say they're treating the situation as a missing person's case with no evidence of foul play.