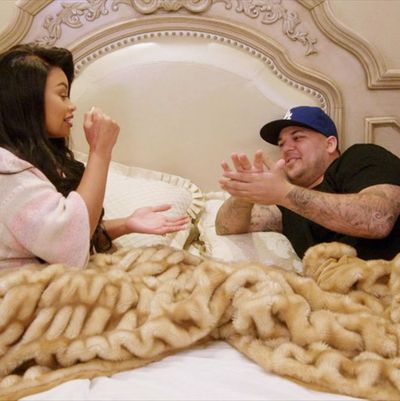 Photo: Courtesy of E! Entertainment
This week on Married at First Sight Rob & Chyna, Rob and Chyna continue to try and concoct a relationship out of the thinnest of air. The couple resorts to online quizzes for measuring their compatibility and trying to get to know one another after realizing that they, you know, don't. Thankfully, this episode does see a moment of Tokyo Toni and two Kardashian sisters. For that we are grateful. So, let's take a look at what went down between Oil and Vinegar Rob and Chyna this week.
The episode begins after last week's ominous "To be continued …" moment with Blac Chyna's mom, Tokyo Toni, warning Rob about being a good father to his baby with Chyna. Tokyo Toni is not having any of Rob's mental-health issues (that are beyond his immediate control) and believes he can easily step up and be a better partner for Chyna. Rob promises that he will do better after his transformative D.C. experience, to which Tokyo Toni promises that he'll just go home and be a "jerk" again. She also goes through his phone to make sure he's not cheating. He's not, which is par for the course for someone who never leaves their home.
Back in California, Rob goes over to Chyna's house in hopes of getting some booty. She declines after a very difficult game of rock, paper, scissors. However, in a moment of clarity, Chyna asks Rob if they're moving too fast since they don't really know one another. This, a question that should have been asked and answered last winter, doesn't get a very smart response from Rob. Rob thinks it's all good since they can "go in reverse." Now that the baby's on the way, and the ring's on the finger, they can get to gettin' and have an honest and open conversation about what they want in life and need from a relationship. Super romantic and not at all dumb as a box of bricks. They decide not to "go in reverse" at just that moment, since Rob wants to take a shower before he graciously spends the night even though he hasn't been promised the booty. Chyna points out that Rob's never taken a shower before giving her "the dick."
The following day, Scott visits Rob. Scott asks Rob how he feels about Tyga and if he saw him at Khloé's birthday party. Rob says the two avoided one another, because he can't even imagine how Tyga feels seeing Chyna having a baby with some other dude. Again, maybe something to be looked at and discussed before any of this happened. Scott makes the point that Rob and Tyga are practically family, even without Chyna in the picture, so they need to figure something out. Mr. Wisdom, Scott, thinks Tyga is chillin' since he's in love and has a new thing going with Kylie. Rob counters that Scott would be pissed if his former girlfriend and current babies' mother, Kourtney, had a baby with another man. Scott admits that now he would be in jail if Kourtney had another child with someone else, but that's only because he's single and still in love with her. Sure.
The show moves on to introducing this week's story line, about Rob reconnecting with his friends, when he asks Scott to go hiking with him. Scott declines and tells Rob to ask a "real friend" he hasn't seen in years, JJ, who still has a relationship with the rest of his siblings. Rob's not down because he's missed so many of their life milestones and doesn't feel like explaining himself or his absence. Scott still thinks Rob should reach out since it's been years, and I think he should reach out since it's been mere days, as he saw most of his closest pals at Khloé's birthday party on June 27, 2016.
Chyna is lounging at her house when she asks her friend Sam what's up with the relationship-compatibility quiz he's taking online, which is about the "5 Love Languages." Chyna decides to take the quiz and also sends it to Rob. They get vastly different results, meaning they aren't compatible. Honey child, Chyna, you didn't need a quiz for that, you just needed to play back footage of this here little show!! Chyna finds out her love language is "Acts of Service" and Rob's is "Quality Time," which don't seem incompatible, but I'm not the quiz-maker nor do I care.
Chyna isn't the only one concerned with her love-language score. Rob enlists Paige, Chyna's BFF and roommate, to help prepare Chyna's favorite meal — since, according to the quiz, she loves Acts of Service. He has some trouble with the meats, as the sausage resembles a penis. In the end, I think he does well, but there's no way of knowing since we never see or hear word of this meal ever again. What we do hear is Rob say the words "I'm trying," in response to Paige asking him to "stay black, my brother." Jesus be a fence around Calabasas and all of its inhabitants.
Over at Chyna's, she receives a visit from Scott. He wants Chyna to help Rob reconnect with his old friends. Scott's also not understanding why no one thinks it's a big deal that Robert hasn't introduced anyone to the mother of his child and fiancée. Chyna agrees to facilitate a gathering, but it can't be a barbecue. She's over those. She wonders if the get-together should maybe be a surprise, since Rob gets so nervous in anticipation of events.
Scott continues to make his little rounds in Rob and Chyna's business, and goes to Rob's house to talk more about his strained relationships with his friends. Rob isn't in a great mood, since he's now getting text messages from his friends asking him to hang out. How dare they!? He's not responded to their correspondence in years, and homeboy isn't looking to change that now. Scott tries to understand, but instead suggests that they just break the ice by eating sushi off a "fat-ass bitch." Rob's silent.
Later, Chyna takes Rob out on a faux first date. She sets up a picnic in the hills and asks Rob some real-life questions. Most important, she asks if he truly intends to marry her next year. Rob says he does, but he also once said he was capable of running a sock company. Good luck, Chyna.
After the picnic, Rob takes a drive with Woodland Hills' Monotone Queen, Kourtney Mary Kardashian. They reminisce about his time at USC, which Rob sort of regrets attending. Since he was so close to home he doesn't think he got a proper college experience, which might inform some of his behavior today. Kourtney agrees, and she also does her part to facilitate this week's story line and asks Rob about reconnecting with his friends. She understands Rob's hesitations, but thinks he needs to just get it over with and see them. Rob agrees.
At Chyna's house, Chyna tells her friend Paige that she needs to move out before the baby arrives. Chyna then takes Paige to a sex shop to find some toys and whips to use on Rob. Chyna wants to give Rob a "kinky reward" for being a mediocre partner, and to "abuse him."
Meanwhile, at Kimberly Kardashian's house, Kimberly sets up a Baby Bootcamp for Rob. The only obstacles are hearing Kim talk about the tarlike substance of newborn poop and how to swaddle a baby. She unfortunately does not teach him how to undo the braids that are posted up in her hair. Rob excels, and Kim is proud of her student.
It's finally time for Rob to reconnect with his friends. He hosts a get-together at his house with Chyna, Kourtney, and Scott in attendance as well. To prepare, Rob mixes himself a smoothie consisting of salmon, steak, blueberries, and milk. Chyna wonders if any of his black friends will be there, and Rob tells her that they won't. The whole event is terribly awkward. No one wants to speak, Chyna and Rob sequester themselves in the kitchen, and when Rob finally comes out, it's just a roundtable discussion of texts Rob hasn't responded to and weddings he's missed. The gathering ends while the sun is still up.
That night, Chyna sets up her sex dungeon for Rob. She's dressed in a sheer negligee and handcuffs Rob to his couch. He asks if he can keep his hat on; Chyna says no. Nothing about this is sexy or fit for television. Rob is fully clothed and complains that Chyna is pulling on his dick; plus, his hands turn blue from the cuffs and his eagerness to free himself from any sort of on-camera vulnerability.
Well, that's all for this week, Dolls. Keep Rob and Chyna in your thoughts, prayers, and tweets as they continue to try their best. Next week we're in for more fighting and more Scott. How lucky are we. Until then, tweet me your cell-phone numbers!