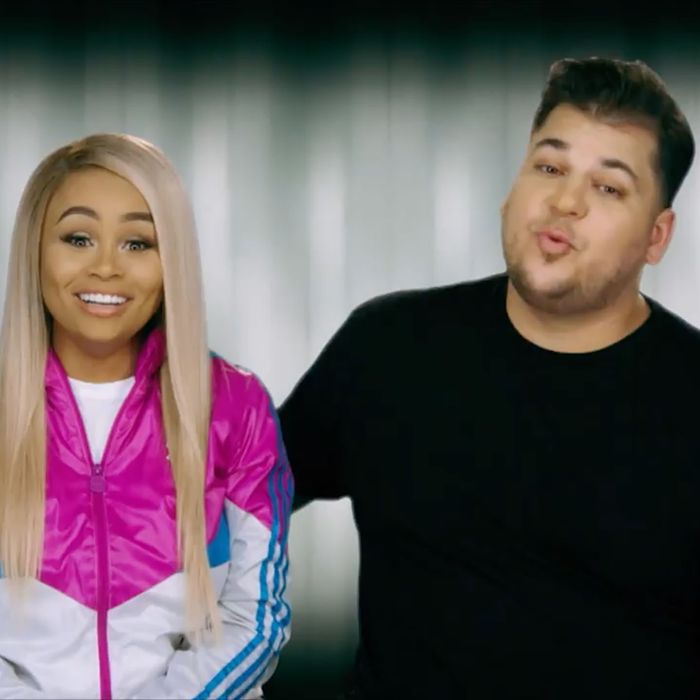 Photo: Courtesy of E! Entertainment
After six weeks of watching E!'s first foray into extraterrestrial programming, Rob & Chyna has come to an end. We've watched two members of Hollywood's reject pile attempt to make a relationship work, mirroring the confusion of a small child trying to build a solid structure out of applesauce. Despite what's happening, they still try.
This week's final episode picks up where last week's left off: Kris Jenner pleading with her son, Rob Kardashian, to do better. Like last week, Rob rolls his round head back in circles, balking at her suggestion of therapy because he's not into the "whole situation" of working through his intense depression and anxiety. Ignorance is the purest form of bliss, isn't it? Rob also tries to convince Kris that he's not stupid and does actually treat Chyna with kindness. Kris pretends to agree before cutting their conversation short to head to a meeting of greater import.
Somewhere else in Southern California, young mother Blac Chyna drives her friend Paige around in an overly ornate luxury vehicle. Chyna explains her reservations about continuing a relationship with Rob. She thinks she's done everything possible to salvage his mental stability and their relationship, but nothing's working. This conundrum makes her wonder if she wants to stay with him. There's still some hope, though: Chyna calculates that either she or Rob could completely change their personality to be compatible. Paige reasons that the two of them once had a bond strong enough to create a child, which means the bond must still be there.
At Chyna's Paper magazine shoot, she takes a visit from the one and only Kimberly Noel Kardashian West. In the middle of Chyna's workday, Kim just needed to come and have a chat about the state of Rob and Chyna's relationship. Chyna tells Kim that the two of them haven't spoken in five days, and Kim is blown clean away. Kim lets her know that she would never let Kanye get away with that and Chyna needs to rectify the situation immediately. Kim also thinks that Rob needs to just "fix" his "fixable" behaviors and work on the "mental thing." As a licensed Kim Kardashian, Kim suggests that Rob and Chyna come to see her so they can talk through their relationship issues. Chyna agrees and respects Kim's wisdom since she thinks they both treat Rob with "tough love."
Once Kim leaves, Chyna gets to her nude shoot as her son, King Cairo, flits about in the background.
Following the shoot, Kimberly receives Chyna and Rob in her home for their first therapy session. To kick things off, Kim gives both expectant parents a Chuck Taylor shoe. She tells them that the baby can only wear the pair when both Rob and Chyna are together. Kim's happy about her little gift and giggles silently to herself as they walk to her couch.
Dr. Kim sits opposite the couple who haven't spoken in a week. To start, Kim tells Rob to "man up" and asks what in his brain goes "off" when he acts out and disappears. Rob doesn't think that his actions are a "big deal," and he's just trying to match Chyna's behavior. Basically, both Chyna and Rob try to retaliate by surpassing each other's mean words or actions. Kim sides with Chyna and says she "can imagine" the "nasty" things Rob says to her via text (#ThatBitchFromGoneGirl). Kim does tell Rob that if he keeps this up he'll be a "deadbeat dad" and "the biggest loser on the planet." Never fear: Rob's confident that the baby will bring him and Chyna together in a "really good way." Kim nods, but suggests they all meet once a week, and tells Rob to just "have his mental together" for the baby.
Soon after his session with Kim and Chyna, Rob takes a visit from Scott. Scott walks in with a mission and asks Rob outright why he isn't in therapy and if he realizes how many people he's hurting. At first, Rob is resistant and tells Scott that his wish is for everyone to focus on themselves, but because he needs to wrap up his little story line and get his filming hours in, he agrees to see a therapist.
In the hills of California, Chyna ends a hike with her pals. As the pregnant eyelash saleswoman takes a seat on the hot Californian pavement, she tells her friends she wants to take a paternity test to confirm that Rob is her baby's father. Chyna knows Rob is the father since she hasn't been with anyone else, but Rob likes to use the possibility of him not being the father as ammo against her in fights. She wants to shut him up for good on the issue and thinks this is the perfect response. Chyna decides to reach out to Kim to help with the paternity test, since she once said to come to her with any problems. In her confessional, Chyna tells Rob & Chyna's national audience that she knows her heart and her vagina, so she's confident that she wants to take a paternity test.
Rob visits Chyna and admits that he's been beaten down enough and will finally succumb to seeing a therapist. Bold move for Rob since he "doesn't agree with the whole thing."
The next day Kim and Chyna drive to Rob's house. For their paternity-test scheme, the two have devised a plan to steal various samples of his DNA without his knowledge. In a shocking twist, Rob is home. So, they go in and pretend it's a normal visit while Kim, wearing "SAVAGE" bike shorts, rolls around in Rob's bed with a lint roller, collecting whatever DNA she can find. While Kim looks hysterically foolish, Chyna heads to Rob's bathroom to steal his toothbrush. The scene is more staged than Hamilton but presents some of the best imagery beholden to the Kardashian name.
Kim and Chyna try to rush out of Rob's quickly, but are delayed by his toothbrush falling out of Chyna's pants. How organic! Rob asks what's happening since the two never travel to his home together. Finally, the zany duo admit that they were trying to collect Rob's DNA for a paternity test. Oddly, Rob isn't upset and tells them that they should have just asked for whatever samples they required. They apologize and rush off to, presumably, joke around in another Calabasas home.
Since Rob is so willing to confirm Chyna's baby is in fact his, they invite nurses over to Chyna's home to take blood samples on her kitchen counter. All they need to do is mail the samples out and wait five to seven business days. Chyna's happy for the in-home treatment: She wants everything done discreetly so tabloids don't catch wind of her plan to prove that Rob is the father of her child.
Rob heads to Kris Jenner's home to get some therapy. Someone has hired a woman named Erin to talk through some things with a reluctant Rob. When Erin asks about his life story, Rob runs through a highlights reel of poor decision-making. One thing that stands out for Rob, though, is when Chyna went to San Diego for his grandmother's birthday without him. He thinks Chyna was too dramatic when talking to his family, causing them to be overly concerned for his well-being. So, when they reached out via text or phone calls, he blocked their numbers. Though he'd been absent for days, he felt their concern was misplaced. Hopefully, Rob can be the first-ever case study in using behavioral psychology to find a cure for perpetual and pervasive pettiness in one's daily life.
After his therapy session, Rob goes to Chyna's to get a haircut in her kitchen. His barber is wearing an airbrushed Robert Kardashian Sr. shirt, and exits through the backdoor. Chyna comes into the kitchen. First, to try to force an unpeeled banana down Rob's throat, then to inquire about his first therapy session. Rob was pleased with his session with Erin; Chyna has some additional notes. Chyna believes that Rob wants to block her from his life, and that they don't know how to communicate with one another. Rob agrees. They decide to fix their "miscommunications."
Feeling alive and on top of the world after one therapy session, Rob goes back to Kris Jenner's home and asks her to plan a dinner for their family. Rob hasn't sat down for a meal with his sisters in years and he's finally feeling up to it. Kris is thrilled and says she can have one planned in 30 minutes.
Over at Chyna's, Chyna deals with a bad reaction to a nail-salon facial. She's anxious about showing up to Kris Jenner's dinner with burns on her face. Paige suggests that Chyna ask Rob for a sperm facial, since sperm contains protein. Ew, yuck, and no, thank you.
Kris Jenner pulled through and gathered each of her Kardashian kids for a meal. Scott, Corey Gamble, and superstar North West also join. Chyna is brave, showing up sans wig and makeup with burns on her face, which Kris thinks looks fairly good since Chyna has such "nice skin." As it's the finale episode, everyone around Kris's table says Rob has "grown," lying through gritted teeth and sips of Snapple from wine glasses.
In the final scene of the season, Rob meets Chyna at her home for the results of their paternity test. The two sit on the edge of Chyna's bed while she opens an email to discover their truth. After some needless suspense, it's confirmed that Rob is the father. Chyna's happy for herself and the baby, who will be "blessed" to have Rob as a daddy. Just keep repeating that, Chyna, and maybe it will come true.
Well, Dolls, that's it for Rob & Chyna. It's been a pleasure walking you through Satan's garden of bad decisions and "booty." Though the road is finished, let's always remember Tokyo Toni and live our lives with the exuberance of someone who's successfully and publicly scammed America's most successful family. Also, remember to catch me here next week for an all-new Keeping Up With the Kontinuity Errors. Until then, Dolls.