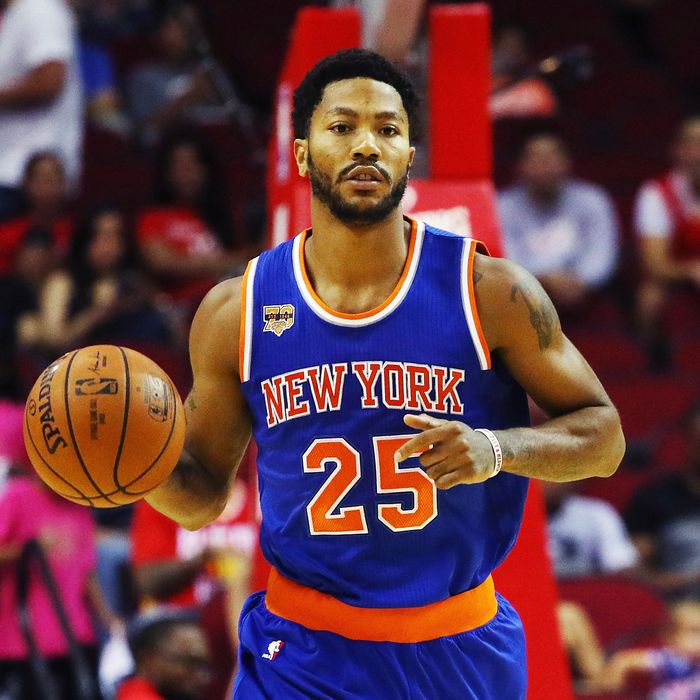 Derrick Rose.
Photo: Scott Halleran/Getty Images
Rolling Stone took down an online article about the Derrick Rose rape trial, domestic violence, and the NBA on Friday, according to Politico. The removal occurred two days after the article was published.
Derrick Rose is currently on trial for allegedly drugging and gang-raping his ex-girlfriend in August 2015 with two friends. The article, entitled "Why Derrick Rose Rape Trial May Wreck NBA Commissioner Adam Silver's Legacy," looked into why Silver has allegedly stayed silent about the Rose trial. Written by columnist Beejoli Shah, the piece also examined how the commissioner had responded to domestic violence allegations in the past.
A source inside Rolling Stone told Politico that an NBA representative contacted sports editor Jason Diamond after the piece was published. Some of the story's assertions were disputed, and two corrections were added. On Friday, the article was removed from the website entirely.
Rolling Stone published a note to its readers late Monday night, explaining that it had removed the article. "After publication, it became apparent that the story had substantial flaws. We made the editorial decision to take down the article on Friday, October 14th. The decision to remove the article from the site was ours alone, and we apologize to anyone that may have been affected," the note said.
Politico also notes that Monday was the first day of a defamation suit against Rolling Stone over a November 2014 article about sexual assault at the University of Virginia. The feature was retracted in April 2015.
This post has been updated to include the note from Rolling Stone.