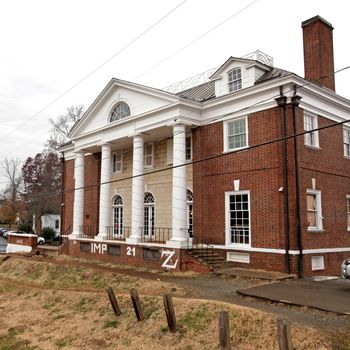 University of Virginia's Phi Kappa Psi fraternity house.
Photo: Jay Paul/Getty Images
Two months after Rolling Stone published a female student's account of being gang-raped at the Phi Kappa Psi fraternity house, the story began to unravel. Sabrina Erdely, who wrote the story, eventually admitted she had not interviewed the men whom her primary source, "Jackie," accused of gang rape, and the magazine officially retracted the story in April 2015. A month later, University of Virginia associate dean of students Nicole Eramo filed a defamation lawsuit against Rolling Stone.
Eramo's suit claims Erdely deliberately depicted her as an unsympathetic administrator more concerned with protecting the school's reputation than with encouraging "Jackie" to report the incident. The trial, which begins on Monday, will focus heavily on whether Erdely and Rolling Stone acted with actual malice when reporting the story. In other words, to win the case, Eramo's lawyers will have to prove that Erdely knew what she was writing about Eramo was false or inaccurate but chose to print it anyway.
According to a statement made to ABC, Eramo's legal team will present "overwhelming evidence showing that Sabrina Erdely and Rolling Stone knew that what they published about Ms. Eramo was false and defamatory." But lawyers for Rolling Stone argued the magazine's depiction of Eramo was nuanced and accurate.
"Dean Eramo's lawyers are attempting to shift the focus of her lawsuit in the media to Rolling Stone's reporting errors surrounding Jackie," Kathryn Brenner, a spokeswoman for the magazine, said in an email. "The depiction of Dean Eramo in the article was balanced and described the challenges of her role. We now look forward to the jury's decision in this case."
The trial will begin on Monday and is set to include testimony from "Jackie," which, ABC reports, could be presented in video form.